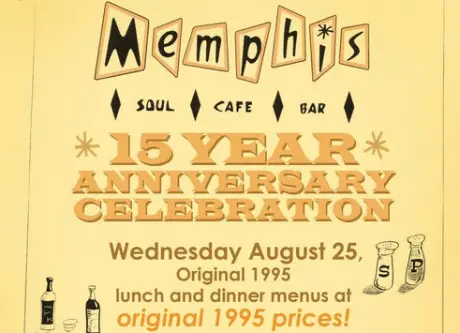 The Memphis Cafe is celebrating their 15 year anniversary this Wednesday, August 25, with lunch and dinner menus at their original 1995 prices, at their Costa Mesa location!  Lunch will be served from 11-3. Dinner from 5-10. Reservations suggested. Call 714.432.7685, or click here.  The Costa Mesa Memphis is located at 2920 Bristol St.
And if you can't make it to Costa Mesa, Memphis at the Santora will be having their usual $9.95 BBQ and 50% off Wine Wednesdays so you can come celebrate with them and raise a glass to 15 great years!
Opened in 2002, Memphis at the Santora blends traditional Southern and contemporary American classics into flavorful renditions of American comfort food. With a larger kitchen than its sister. Memphis Café in Costa Mesa, the restaurant's menu covers a wider range of Southern specialties, including buttermilk fried chicken, and a garlic-marinated and grilled center-cut pork chop. drizzled with a balsamic dried-cherry reduction.
On the registrar of historic landmarks and perhaps the most beautiful edifice in downtown Santa Ana, the 1929Santora Building is done in a rare Spanish Colonial revival style known as Cherrigueresque. With its elegant gated lobby entrance, terrazzo floors and grand double staircase, the building represented the height of luxury and was home to retail shops on the ground floor with a speakeasy/jazz club on the basement level. Its most well known tenant, Danigers Tea Room, was an under the radar hot spot for Hollywood movie stars in the 1920s and '30s.
Memphis at the Santora is located at 201 N. Broadway, in downtown Santa Ana.