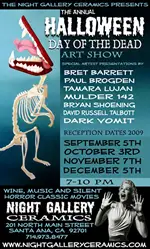 Night Gallery Ceramics Presents The Annual Halloween Day Of The Dead Art Show, starting tonight, Saturday, October 3rd, from 7:00pm – 10:00pm.
The event will include Wine, Music and Silent Horror Classic Movies, and special Artist's Presentations by: Brett Barrett, Paul Brogden, Tamara Lujan, Mulder 142, Bryan Shoening, David Russell Talbott, and Dark Vomit.
Future Reception Dates: November 7th and December 5th.
Night Gallery is located at 201 N. Main St., in Santa Ana.  You may call them at  (714)973-8477.
They are open from 12:00-5:00pm Saturdays and 7:00-10:00pm on 1st Saturdays of each month for the Santa Ana Art Walk.  You may also call or email for an appointment.  They are also available for alternate viewing hours during the week and evenings.