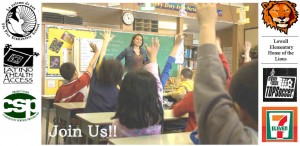 The Pico-Lowell Neighborhood association, in partnership with the Boys and Girls Club of Santa Ana, Community Services Programs, Inc., CHOC, Pio Pico and Lowell Elementary Schools, Parent Teacher Association (PTA), SAPD, OC Human Relations, Senator Lou Correa, Think Together, Latino Health Access, 7-11 stores, Starbright, and US Youth Soccer invite you to a community forum scheduled on Oct. 3,  from 10:00 am – 12:00 pm at the Santa Ana Boys and Girls Club and community resource fair from 12:00 pm – 3:00 pm on Highland St. between Flower and Shelton in Santa Ana.
The event theme, "Connecting our Voices and Strengths for a Safe Community – Conectando nuestras voces y fortalezas para una comunidad segura" focuses on building cohesion among residents, community health and safety partners and neighbor-serving organizations. Click here for more information.
FOR MORE INFORMATION PLEASE CONTACT FABIOLA SOTO OF CSP AT (949) 757-1096 ext. 224
OR GUS GUERRA OF THE SANTA ANA BOYS AND GIRLS CLUB AT (714) 543-7212.