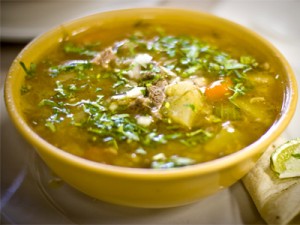 One thing Latino and Vietnamese residents can agree on – Pho is delicious!
"Lan Quoc Nguyen, the Vice-President of Board of the Garden Grove Unified School District, in an interview published on a Vietnamese newspaper proclaimed that other ethnicities are wary of classes with a lot of Asian students in it because they can't compete," according to the Bolsavik blog.
Wow!  Where do we even begin with that sentiment?
My son Joey goes to Godinez High School, in Santa Ana, where he is an honors student.  He is taking Advanced Placement classes that will earn him college credit.  I have met many of his peers.  Most of them are Latinos.  But my son's girlfriend is Vietnamese – and yes she is brilliant.  She speaks three languages and teaches piano lessons. 
As for my son, he plays the guitar and pitches for his high school baseball team.  And no, he is not wary of Asians.  Nor have I seen any animosity between the different races in his AP classes. 
It is however true that there is tension between the two communities – but that is largely due to the most Republican Vietnamese American politicians in the area who like to rip Mexican immigrants.
How sad because these two communities have a lot in common.  Both have fled their countries of origin to find opportunity and freedom.  Both speak other tongues and have had a hard time learning English.  And both populations have their own newspapers, in their native tongues – and their own radio and T.V. stations.  Finally, both populations like to shop at supermarkets that feature their native products.
Do Vietnamese students do better in school than Latinos?  Sometimes they do.  This isn't because they are inherently smarter.  It has more to do with parental involvement, or lack thereof.
I am proud of my son and proud of his girlfriend.  They represent a future where folks in the area can be friends and overlook their differences. 
You see this at local Pho restaurants all the time.  Their clientele, at least in Santa Ana, is mostly Latino.  One owner of a Pho restaurant told me recently that he would be out of business if not for his Latino customers!
Perhaps Lan Nguyen needs to get out more and see that what we ought to be doing is trying to get both populations to work together instead of making comments that just are going to set people off…
Of course it could just be that Nguyen likes courting controversy.  "Nguyen is building an impressive resume for controversy. In 2008, he went on a Little Saigon radio station to preposterously brand Supervisor Janet Nguyen a communist because, in part, of her ties to the president of the Vietnam Business Association, which encourages trade between the U.S. and its former Southeast Asian enemy," according to the OC Weekly.