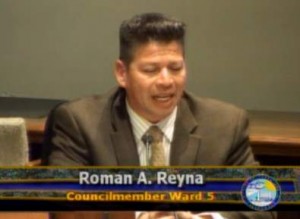 Santa Ana City Councilman Roman Reyna, who was elected to his first term, in Ward 5, last year, is apparently going to run against popular Santa Ana Mayor Miguel Pulido in 2014, according to a city insider.
Reyna, who touts that he is an "Orange County Department of Education Case Manager," on his city bio, has previously worked at the Santa Ana Parks and Recreation Agency, the Santa Ana Boys and Girls Club, and the Santa Ana YMCA.  He served one term on the Santa Ana Unified School District's Board of Education, before running for the Santa Ana City Council, when longtime incumbent Claudia Alvarez termed out.

Notably Reyna's city bio does not contain any information about his education.  Nor does his campaign bio.
Pulido handily beat Reyna's longtime ally, Councilman David Benavides, in last year's mayoral race.  In that race Pulido garnered almost 50% of the vote while Benavides got only 14,995 votes, according to Smart Voter.  Pulido got similar results in 2010, when he hammered Alfredo Amezcua, a local criminal defense attorney.  Amezcua got only 26% of the vote, according to Smart Voter, while Pulido got almost 50% of the vote, with 21,558 votes.
So why is Reyna apparently going to run against Pulido?  Simple.  He is in the middle of a  four-year Council term and can safetly challenge Pulido while retaining his Council seat.  Benavides has to defend his Council seat next year so he will sit this one out.  You have to wonder if Benavides will support Reyna's mayoral campaign – or will he return to supporting Pulido, as he did for so many years before breaking with Pulido in 2010?