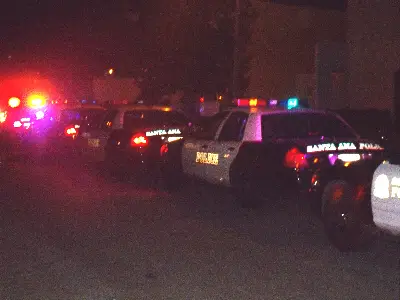 Santa Ana Planning Commissioner Sean Mill and I drove down to the Culture Carnival – an all night musical event, with art, that was supposed to start at 7 pm on Friday night, in a warehouse in southwest Santa Ana.  But we had a feeling that the event was not going to go as planned.
I had found out earlier in the day that the Santa Ana Police Department and Alvaro Nunez, the Santa Ana Code Enforcement Supervisors, had been talking to the event organizers – who didn't pull a permit for the event.  I reached out right away to a publicist who was promoting the event, when word about this first came to me.  But trying to get a permit on a Friday, when Santa Ana furloughs most of their city employees on Fridays, is not an easy thing to pull off.
To make matters worse, the area where this event was planned simply wasn't zoned for such activities.  It was strictly a light industrial area – without sidewalks in fact.  Allowing an event like this to go forward would have put people and property at risk.
The SAPD wasn't fooling around with this one.  Commander Ken Gominsky showed up in force with 12 squad cars and seemingly 20 police officers.  It was quite impressive!  Fortunately the event organizers saw that it was game over and they folded up shop.
I spoke to a fellow named Russell Hornbeek, the President of a charity, "Music Saves Lives," which was supposed to benefit from the event.  He wasn't happy about the closure of the event but he said that they would try to find another location.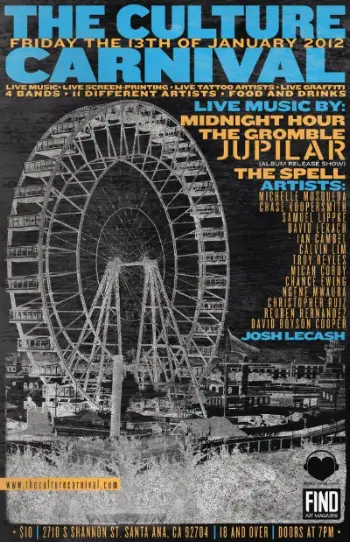 The event organizers posted this response on Facebook early this morning, "THE SHOW WILL GO ON!!! We are currently looking for a new warehouse to put the culture carnival on at. If anyone has any ideas of spots we could move the carnival to, email us at culturecarnival@gmail.com. Tickets will be refunded in a day or two. Thank you to all who attempted to come out."
I hope that they plan on getting a permit next time.  I mentioned to Hornbeek that the Yost Theater would be a good place to host the event.  But the Yost has been pretty well booked for some time.
This isn't the first time this has happened.  In fact Archer Alstaetter, the East End promoter, held a "Zombie Walk" a few months ago – and according to my sources he did not pull an event permit.  I am told that won't be happening again as the City's Code Enforcement agency is now keeping a closer eye on the Downtown area.
The City of Santa Ana makes it easy to pull event permits.  They even have an entire web page devoted to this, at this link.  Here is what the site has to say about holding an event on private property:
What to do if the event is on private property
These events include sidewalk sales, radio station promotional broadcasts, carnivals or any activity not conducted within a building
Complete a Land Use Certificate Application. Obtain the property owner's signature and attach a site plan showing how your event will be setup
Submit to the Planning Department Permit Counter located at City Hall. Allow 10 business days for processing
Land Use Certificate Fees listed as category 1 or 2 on the form
If you have any further questions regarding private property special event permits please call 1 (714) 647-5804.