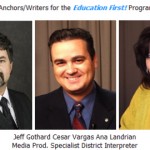 The SAUSD has their own propaganda team, but no online archive of past board meetings
Santa Ana Unified School District Board meetings are cablecast live at 6:00 p.m. on Santa Ana's Time-Warner Cable Channel 31 on the second and fourth Tuesdays of the month.  Their recorded School Board meeting cablecasts are repeated on the Saturdays following the live cablecast at 3:00 p.m. and are also shown again on Tuesday at 6:00 p.m.
But the meeting footage is not archived online.
The problem with showing the meetings on a cable channel is that a lot of folks don't use cable anymore.  Many of us use satellite dishes or fiber-optic networks.
Now you can watch the meetings online, at this link, but they are not archived.  That is to say that you cannot see past meetings.
Why are the SAUSD Trustees hiding from the voters?
Click here to read the rest of this post.