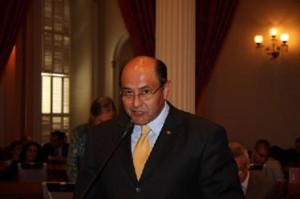 State Senator Lou Correa has opted not to run for Mayor of Santa Ana.  Why did he get cold feet?
"After a review of various factors, I have decided not to run for Mayor at this time," Correa (D-Santa Ana) stated in an email to a Voice of OC reporter. "I was deeply touched by all of the calls of encouragement that I received from folks from all walks of life, and all across party lines. I thank you all," according to the Voice of OC.
Well that statement tells us nothing at all.  What I heard from several inside sources was that Correa didn't think he could beat the longtime incumbent, Mayor Miguel Pulido.  Correa has enough money in his vast campaign war chest that I would be willing to wager that he conducted a poll and the results were no bueno.  Pulido, apparently, is still the man in Santa Ana.
Correa has other aspirations.  Apparently he wants to run for State Attorney General in 2016.  And you can bet that if Hillary Clinton is elected to the White House in 2016 and she then appoints U.S. Rep. Loretta Sanchez to her cabinet, then Correa will no doubt run for Congress.
And I suppose that Correa may yet try again for the First District of the Orange County Board of Supervisors if the gal who replaced him in that seat, Janet Nguyen, beats Jose Solorio this November for Correa's seat in the 34th State Senate District.
One thing we know for sure, had Correa run for Mayor and lost it would have ruined his political career.  So he folded and took his cards home.
So what now?  Two Santa Ana Council Members have pulled papers to run for Mayor, including first term Councilman Roman Reyna, an alleged high school dropout who isn't qualified to be hired as a City Intern, and Councilman Vince Sarmiento, an attorney and business owner who might be the smartest of the Council Members but is as weak as they come.
I have it on good authority that Pulido is all in.  In which case I will be supporting him again.  He is still, by far, preferable to the likes of Reyna and Sarmiento.  His critics can assail him til the cows come home but look around this city and Pulido's imprint is everywhere.  He has made a difference in Santa Ana and you sure can't say that about his Council colleagues.
Might someone else run for Mayor?  Sure.  I expect a few gadflys to jump in like they always do but with Correa out this is Pulido's race to lose.  And he won't lose barring an indictment for whatever real estate shenanigans the authorities have been looking into.
Let's take a ride in the wayback machine and have a look at Pulido's last three contests:
In 2008 Pulido was challenged by Councilwoman Michele Martinez and two gadfly candidates in the form of George Collins and Stanley Fiala.  Pulido got 55% of the vote.  Martinez ended up with a paltry 29.3% of the vote.  Collins and Fiala were negligible. (Source: Smart Voter)
While Martinez was way over her head in 2008, Pulido faced a seasoned attorney and politician himself in 2010 when Alfredo Amezcua challenged him.  Amezcua had served previously on the Rancho Santiago Community College District's Board of Trustees until reportedly he had to resign when it was discovered that he had listed his law office as his address and in fact he lived in a different area.  Amezcua spent a fortune but in the end Pulido got 49.5% of the vote and Amezcua ended up with 26.8% if the vote.  There were three gadfly candidates in that race – Charles Hart, George Collins and Roy Alvarado.  Their results were negligible but they did eat into Amezcua's vote and perhaps a bit of Pulido's too as Hart and Collins did collect some Republican votes that usually go to Pulido. (Source:

Smart Voter

)
Pulido was challenged by Councilman David Benavides in 2012, even as Benavides' marriage was reportedly falling apart.  Benavides had a lot of support from a now unified opposition and he raised a lot of money from apartment developers, other developers and the police union.  Yet in the end Pulido got 48.2% of the vote and Benavides had to make do with 26.7% of the vote.  There were several gadfly candidates including George Collins, Lupe Moreno, Roy Alvarado and Miguel Angel Briseno.  They collectively netted about 25% of the vote. (Source:

Smart Voter

)
It should be noted that the union-funded Voice of OC has been attacking Pulido non-stop for awhile.  The head of the Orange County Employee's Association, Nick Berardino, has it in for Pulido for a couple of reasons.  He is mad that Pulido did not support the womanizing Tom Umberg a few years ago in a Supervisorial race that Janet Nguyen won.  And Berardino, who is an ally of former State Senator Joe Dunn, apparently didn't like that Pulido fought to keep the Federal Court of Appeals here in Santa Ana.  Dunn tried to move that court to Irvine.  Pulido saved a lot of jobs by keeping the Court of Appeals in town.  Berardino and Dunn are big dogs at the Voice of OC yet despite all the attacks on Pulido he just keeps winning.
I started helping Pulido in 2010.  I talked to Amezcua but quickly developed distaste for him. He had made a lifetime of defending gang bangers and drug dealers.  So I helped Pulido.  And in 2012 I did so again because I have never been a fan of Benavides and continue to not be impressed by him.
Sarmiento seems harmless enough but he is not a leader and he lacks vision.  And he is as week as a Kleenex tissue.  He is quite simply not Mayoral material.  And he barely won when he ran for re-election in 2012.  Sarmiento edged out the unknown Estela Amezcua, a teacher who did not run a campaign and did not spend any money on her race, by just 4% of the vote, according to Smart Voter.  Sarmiento, a Bolivian by extraction, should stick to running nightclubs, which is what has made his family wealthy.
I expect to hear from Pulido again soon.  Then it will be time to beat another bunch of sad sack candidates in November.