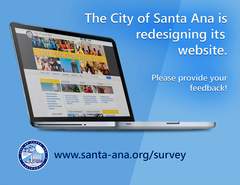 City of Santa Ana
Community: Santa Ana Website Redesign – We want your feedback! / Rediseño del sitio web de la ciudad Santa Ana – Queremos su opinión
The City of Santa Ana has embarked on a project to redesign its website, implement a website content management system, and implement an open data portal. The new website will be mobile friendly, provide stronger search capabilities, and will allow content to be updated faster. It will also be integrated to social media and electronic newsletters and will provide an open data portal, which will include an economic development portal to assist companies wanting to do business in Santa Ana.
Please take a quick survey to let us know what features or improvements you'd like to be part of our new website at www.santa-ana.org/survey.
——————————————————————————————-
Rediseño del sitio web de la ciudad Santa Ana – Queremos su opinión
La Ciudad de Santa Ana se ha embarcado en un proyecto para rediseñar su sitio web. El nuevo sitio web será móvil, proporcionará capacidades de búsqueda más fuertes y permitirá que el contenido se actualice más rápido. También se integrará a los medios de comunicación social y boletines electrónicos y proporcionará un portal de datos abierto, que incluirá un portal de desarrollo económico para ayudar a las empresas que deseen hacer negocios en Santa Ana.
Por favor, tome una encuesta rápida para hacernos saber qué características o mejoras le gustaría formar parte de nuestro nuevo sitio web en www.santa-ana.org/survey.