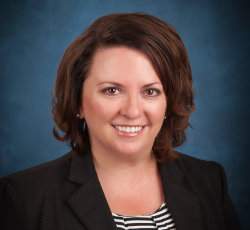 For Immediate Release
Trinity Law School graduate to serve with major human rights organization
(Santa, Ana, CA) – Trinity Law School 2014 graduate, Angie Zetterquist, has been appointed as Legal Fellow for the International Justice Mission (IJM). She will be serving the organization in Southeast Asia for one year.
"This is a life-changing transition for me," says Zetterquist. "Armed with my Trinity law degree and having passed the California Bar, I will be assisting and learning from the IJM legal staff as they plead the cases of the victims of sex trafficking and prosecute the perpetrators in the local court system."
Since 2006, the International Justice Mission has rescued over 19,000 people from violence and oppression, and secured the convictions of over 800 violent criminals. Statistics show that nearly 36 million people are victims of modern-day slavery, and over 2 million children are caught in the commercial sex trade. Headquartered in Washington D.C., International Justice Mission has eighteen field offices located throughout the developing world, protecting the poor from violence.
"I have known the work of IJM for many years and have great respect for its effectiveness in bringing justice to the darkest corners of the world," says Myron Steeves, Dean of Trinity Law School. "So I am extremely proud that our alumna Angie Zetterquist has been appointed by IJM to do great things for God with her law degree."
Professor William Wagner, Director of Trinity's Center for Human Rights, says Zetterquist's appointment reflects the school's commitment to international justice. "As Christians, we are called to be salt and light in the world, and it is a blessing to see Angie answering this call," said Wagner.
###
About Trinity Law School:
Founded in 1980 as the Simon Greenleaf School of Law, Trinity Law School is a distinctively Christian law school located in Santa Ana, California. It is one of four schools in the Trinity International University system, which is based in Deerfield, Illinois. Trinity Law School is accredited regionally by the North Central Association of Schools and Colleges and accredited by the California State Bar Committee of Bar Examiners. For more information, please visit www.tls.edu or call 800-922-4748.