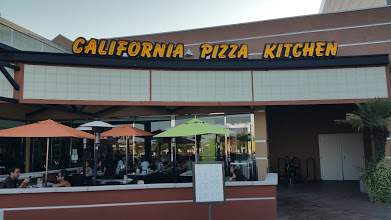 When was the last time you visited California Pizza Kitchen (CPK), in Santa Ana?  They have been located at the Main Place Mall for over 20 years.
But Santa Ana's CPK looks new again as they recently completed a remodel that has given them a modern and inviting new look. The warm, rustic décor features oak floors, tabletops and chairs made from reclaimed wood, stone countertops, fabrics and décor made from recycled materials, a natural herb garden, and artwork that celebrates local landmarks in Santa Ana.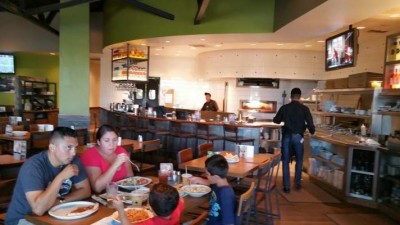 But it's not just the decor that has been refreshed.  The new Santa Ana CPK also features a new and vastly expanded menu, featuring fresh, seasonal ingredients, inventive main plates, hand-crafted cocktails and customizable Lunch Duos.  The Santa Ana restaurant is among the first in the country to feature CPK's "Next Chapter" menu and dining experience, which is gradually rolling out to CPK locations across the country.
I brought my three sons, my wife and a friend of hers to the Santa Ana CPK this evening, after a long day at work.  My boys were intent on ordering CPK's signature hearth-baked pizzas but I wanted to try CPK's new menu items.  We compromised and tried a bit of everything!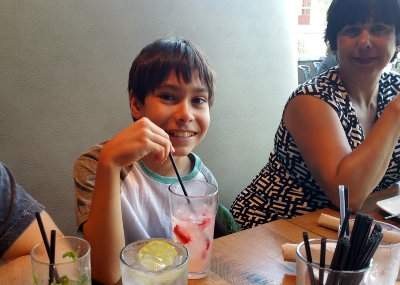 We were greeted by the General Manager, Milagro Ruiz.  She introduced us to our server, Rob, who is also a bartender.  He is a graduate of Chapman University and he is adept at preparing some amazing drinks!  We tried a few of them including a drink that called California Crush that was inspired by mojitos, another cocktail called California Roots that included avocado, a Coconut Blossom, that was like a pina colada and a whiskey-based concoction called Blueberry Ginger Smash. They were all terrific but my son Jacob fell in love with the Strawberry Mango cooler, which was non-alcoholic.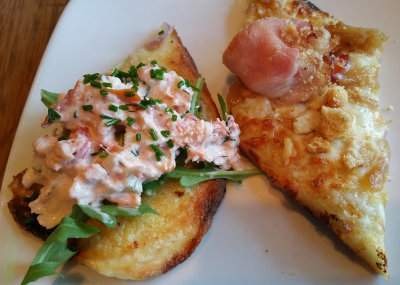 Rob brought out a few delicious appetizers to start us off including a baked potato soup (with bacon) that was creamy and delicious and a Farmer's Market veggie soup that combined a tasty melange of squash and corn.  We also tried the new Lobster and Ham and Cheese flatbreads.  They were both very good – and the amount of lobster heaped on the flatbread was very generous.
Next up came the pizzas.  Jacob can't eat gluten, after a year of struggling with Lyme disease.  We have tried other non-gluten pizzas but they are never very good.  We are happy to report that the non-gluten pizza at CPK is amazing!  Jacob really liked it.  He topped it off with mushrooms, spinach and pepperoni.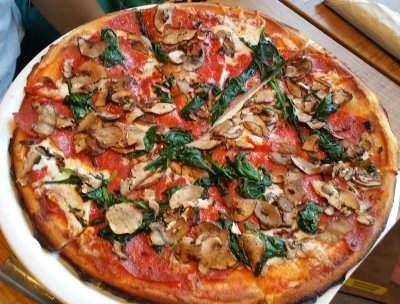 Joey ordered the Thai Chicken Pizza, on a whole wheat crust.  It featured fresh toppings including slivered carrots, crisp bean sprouts and slivered scallions in a Thai peanut sauce with grilled chicken breast.
My son James ordered the Sicilian Pizza – which was spicy and was my favorite of the pizzas we tried.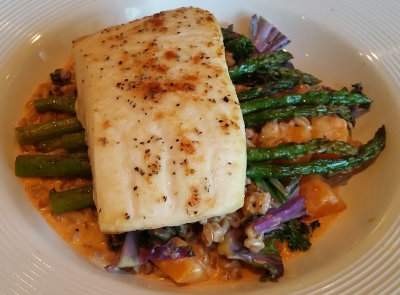 Then came the new dishes – Hearth-Roasted Halibut, Pan-Roasted Chicken and Fire-Grilled Ribeye.  The Halibut, which was wild-caught in Alaska, was cooked on a cedar plank and was tender and tasty.  It was accompanied by grilled asparagus and butternut squash, baby kale and an ancient grain called farro.  The Ribeye was unbelievable – topped with blue cheese butter and rubbed with a housemade Pinot Noir sea salt.  It was paired with roasted fingerling potatoes and lemon-garlic wild aragula salad.  The chicken was sauteed with fresh garlic and plated with baby carrots and cauliflower.  All three of these dishes were savory and delectable!
After eating I had a chance to meet the amazing chefs including the head chef, Jose Lara, and his team – Arturo Aguilera and Guadalupe Rueda.  Jose showed us how to make their pizzas.  My son Jacob proved to be much better at hand-tossing the dough than I was!  The pizzas are cooked to order in a hearth that was blazing at 567 degrees F.
More changes are on the way at Santa Ana's CPK as they are planning to extend and enclose their patio in the next few weeks.
This location offers a catering menu and has a lunch duo menu that includes lunch-sized versions of their pizzas and sandwiches, as well as soups and salads for very reasonable prices starting at $8.95.  Click here to check out their reimagined menu.
Be sure to try the New CPK menu – it is guaranteed!  If a guest tries a new dish and is not satisfied, it will be replaced with his or her favorite item from the CPK menu.  In addition to gluten-free items the menu also includes vegetarian and vegan options.