ORANGE COUNTY DISTRICT ATTORNEY PRESS RELEASE
Date: April 8, 2016
OCDA UNVEILED "PAWS"ITIVE PROGRAM PAIRING "PUPS" WITH PROSECUTORS TO HELP SEXUAL ASSAULT VICTIMS
SANTA ANA, Calif. – The Orange County District Attorney (OCDA) Tony Rackauckas unveiled today the newly launched PAWS Assist the Needs of the District Attorney (PANDA) program, where Pets Are Wonderful Support (PAWS) volunteers and their therapy dogs will be on-site to comfort sexual assault victims as they meet with prosecutors.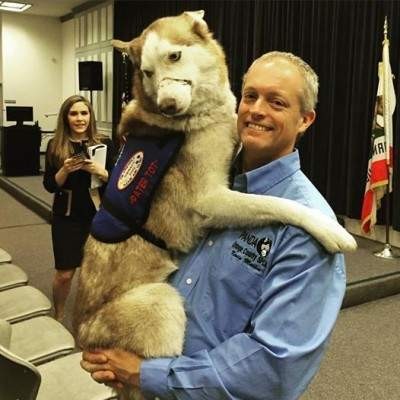 OCSPCA's PAWS
PAWS is part of a non-profit organization, Orange County Society for the Prevention of Cruelty to Animals (OCSPCA), which was established in 1987 by a group of animal lovers. PAWS provides pet therapy to individuals, including community members with special needs, young students, hospital and hospice patients, and children, and they are the exclusive organization approved to visit Orangewood Children's Home.
Kevin Marlin has been with OCSPCA since 2007 and has been the Program Director since 2010. He is also a member of the Board of Directors and is responsible for the training and evaluation of all of the organization's therapy dog teams. OCSPCA's mission is to help OC animals in need, is run entirely on private donations, and is not affiliated with any other organization.
Marlin helped create PANDA and has been involved in animal welfare for more than 20 years. He rescues Siberian huskies and northern breeds, and his main therapy pet is Patriot, a calm and friendly Siberian husky. Patriot was severely abused as a 3-month-old puppy, having had metal wire wrapped tightly around his face leaving permanent scarring and disfigurement to his muzzle.
"My reason for becoming involved in pet therapy was because I saw how much my own dog, an Alaskan malamute named Odie, was able to help my own son, who has difficulties due to autism. Odie could calm and soothe him, allowing him to focus on day to day activities and function, something no medication was able to do," said Marlin. "Discovering the strength of that human-animal bond provided the inspiration to go and see how I could use my dogs to help others. With my four current therapy dogs, Patriot, Mika, Holly, and Colby, I have seen firsthand how they can light up a room and bring a smile to the face of a child who desperately needs the unconditional love that the dogs provide. Dogs are nonjudgmental and are keen to others' emotional needs and are able fill the heart and soul with warmth, providing a powerful alternative to traditional therapy methods."
PANDA
Like other surrounding counties, the OCDA's then-Assistant District Attorney Rosanne Froeberg for the Sexual Assault Unit (SAU) pitched a program like PANDA, to get help for young victims coming to the office for trial preparation. PANDA was then created early last year with the help of the SAU and its current Assistant District Attorney Kal Kaliban.
At no cost to the taxpayer, PANDA is already providing volunteers and therapy dogs to OCDA's SAU, to comfort child victims as they meet with the prosecution team to discuss legal proceedings and case information. Since March 2016, there have been five successful meetings with PANDA, the prosecution team, and the victims and victim families.
The SAU prosecutes defendants for the sexual assault of minors, sex crimes against adults, possession and production of child pornography, Internet predators, civil commitments of Sexually Violent Predators (SVPs), and statutory rapes. Many of these violent and serious cases are one-strike cases and often receive sentences amounting to decades and carrying mandatory life terms. The Unit files approximately 350 cases per year and convicts 90 percent of the defendants.Approximately half of the jury trials involve child victims under the age of 14.
The PANDA program is currently being used solely by the SAU and will eventually be made available to other units as needed. All the PANDA volunteers have to adhere to strict guidelines and are trained to work with victims. Each of the qualified volunteers and trained therapy dogs, working with the OCDA, have been approved by PANDA.
"I know how difficult the legal process can be for sexual assault victims, especially children.We felt it was necessary to address this," said DA Rackauckas. "This program is paws-itively beneficial for crime victims. We hope that someday, we might be able to expand this program to comfort all victims, including adult sexual assault victims and victims of domestic violence."
###
TONY RACKAUCKAS, District Attorney
Susan Kang Schroeder, Chief of Staff
Office: 714-347-8408
Cell: 714-292-2718