12th ANNUAL VICTIMS' RIGHTS CONFERENCE HONORED VICTIM ADVOCATES AND OFFERED CUTTING-EDGE EDUCATIONAL TRACKS
Community Service Programs' 2016 Victims' Rights Luncheon Featured Dr. Kathie Mathis, President/CEO of California Cognitive Behavioral Institute
Garden Grove, Calif. (April 11, 2016) – "Serving Victims, Building Trust, Restoring Hope" was the theme of nonprofit Community Service Programs' (CSP) 12th annual Victims' Rights Conference on Thursday, April 7, 2016 at the Embassy Suites in Garden Grove. The event hosted more than 220 law enforcement officers, therapists, nonprofit staff, service providers, victims and community members to learn valuable training through cutting-edge educational tracks and to honor local heroes who work tirelessly to advocate for victims' rights throughout Orange County.
Acclaimed author and advocate Dr. Kathie Mathis, President and CEO of the California Cognitive Behavioral Institute, was the luncheon's plenary speaker. During her career, Dr. Mathis has developed and introduced national models in mentoring, abuse prevention and school-based stop bullying programs. Dr. Mathis is a state and national advocate who participated on the taskforce reforming the California Dept. of Parole/Rehabilitation Adult Outpatient Mental Health Programs. Dr. Mathis discussed Secondary Trauma, or Vicarious Trauma, and shared how first responders can decrease their chances of "work burnout" and understand how the work they do every day can have a lasting impact on them.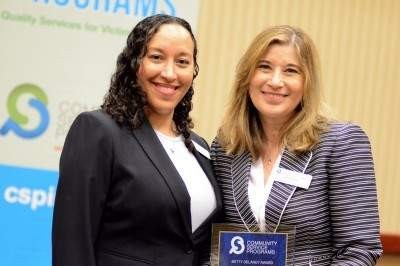 "It is very important to Community Service Programs' to host our annual Victims' Rights Conference so we may honor individuals that demonstrate a commitment to making a positive impact on the lives of crime victims," said Lita Mercado, director of Community Service Programs (CSP) Victim Assistance Programs. "Plus, this event allows CSP another avenue to provide valuable knowledge and training to professionals and community members that provide victim assistance throughout OC."
Event educational tracks to train law enforcement, social workers, therapists, those who serve victims and other community members included:
Beneath the Surface: Human Trafficking in Orange County – presented by the Orange County Human Trafficking Task Force: Camille Coronel, Victim Advocate, Community Service Programs; Oree Freeman, Survivor/Advocate; Inv. Happy Medina, Anaheim Police Department; and DDA Brad Schoenleben, Orange County District Attorney's Office
Changing the Game: Gangs, Cold Cases and CSI – presented by Santa Ana Police Department: Sgt. Julian Rodriguez, Orange County Gang Investigators Association; Det. Gus Moroyoqui, Orange County Homicide Task Force; and Mark Waldo, Lead Forensics Specialist, CSCSA
The 2016 CSP Victims' Rights Conference awards and honorees during lunch included:
Victim Service Awards, awarded to professional and community partners of CSP Victim Assistance Programs for their dedication and commitment to crime victims and their families.
Marissa Presley, Prevention and Education Specialist, Laura's House
Presley, an Aliso Viejo resident, has a passionate dedication to her work as a domestic violence educator, and is a sought after speaker both inside and outside Orange County. She engages the community with a combination of psycho-educational teaching, humor, and personal narrative that leaves an impression on those who have the privilege of hearing her speak. Presley has a long-standing relationship with CSP's Victim Assistance Programs, offering biannual presentations on intimate partner violence for the Sexual Assault Victim Services' 48-hour Sexual Assault Crisis Counselor Training, and facilitating workshops on healthy relationships for clients of CSP's Human Trafficking program. Each February, Presley organizes a well-attended candlelight vigil in remembrance of teenagers who lost their lives to dating violence. She maintains strong relationships with many partners throughout the county including Orange County Juvenile Hall, Joplin Detention Center, the OC Sheriff Explorer Program, and CSP's Gang Reduction Intervention Program. She also has been the recipient of the Ambassador of Peace Award from the Violence Prevention Coalition of Orange County.
Sheila Bates & Jessica De Salva, Volunteers, CSP Sexual Assault Victim Services
Since 2014, Sheila Bates, a Long Beach resident, and Jessica De Salva, a Costa Mesa resident, have undertaken the enormous task of organizing annual performances of "The Vagina Monologues" at the Frida Cinema in Santa Ana. The performances bring awareness to the Orange County community of women's experiences and of the prevalence of sexual violence and benefit CSP's Sexual Assault Victim Services program (SAVS), a program for which they both volunteer. Bates and De Salva held auditions, coached actors, publicized the event, and garnered donations of food, wine, and silent auction items. To reach a broader audience, they arranged for two separate casts – English and Spanish speaking – providing an opportunity for an underserved community to participate and hear the message of the show. As volunteers, Bates and De Salva regularly take on more shifts than are required of them each month, and are part of an elite group that mentors and trains volunteers that are new to the program. These women have gone above and beyond in their service to the SAVS prevention program and to sexual assault victims in Orange County.
Valor Award, granted to a client of CSP Victim Assistance Programs who has shown strength and resilience in dealing with the aftermath of crime victimization.
Leela Dhanak
Dhanak was the victim of a horrific crime that was perpetrated against her and her family members in 2007. She lost her husband and a daughter in the attack and suffered long-term injuries. However, despite the deep loss that she experienced and her physical limitations, she has persevered. Dhanak has attended every court hearing against her attacker, even facing him in court and testifying against him in seven different trials. She is a pillar of strength for her surviving daughter and is a key figure in her faith community. Dhanak gives her time generously helping others, always going out of her way to be there for her friends and loved ones. Dhanak serves as an inspiration to those around her. Her resilience is proof that the human spirit cannot be broken.
Betty Delaney Victim Service Award, awarded to a CSP Victim Advocate in recognition of his/her exemplary work, dedication and commitment to crime victims and their families, and to CSP's mission.
Yadira Riley, Supervisor of CSP's West Justice Center Victim/Witness Office
Riley, an Irvine resident, has been working for CSP since 2009, and is currently the supervisor of CSP's West Justice Center Victim/Witness Office. She is an exceptional supervisor and advocate with a deep passion for helping others. She strives to set an example of teamwork in her office, often jumping in to help her colleagues when they are understaffed or in need of assistance. She is responsive to the needs of her staff, meeting with them regularly to offer assistance and providing opportunities for professional development. Riley also maintains her own caseload, working with many difficult cases, and provides endless support regardless of the difficult and challenging circumstances her clients are in when they seek assistance. Riley is a reliable and professional collaborative partner with the courts and the Orange County District Attorney's Office, and is a member of SHIELD (Strategic Home Intervention and Early Leadership Development Program) and the Shelter Services Team. Her positivity and can-do attitude is an inspiration to all those who come into contact with her.
Distinguished Service Award, recognizes the extraordinary efforts of a member of CSP Victim Assistance Programs staff whose work is outside of direct advocacy.
Beverly Falco, Prevention Educator for CSP's Sexual Assault Prevention Program
Falco, a Brea resident, began her career at CSP in 2013 as an Office Specialist for Victim Assistance Programs, when she also volunteered with CSP's Sexual Assault Program. In 2014, Falco accepted the position of Prevention Educator, and in that role is currently responsible for delivering prevention education presentations to high schools, colleges, and various human service agencies. In a typical semester, Falco will speak to over 5,000 students in an effort to quell the tide of sexual violence. Falco is passionate about prevention, and it is obvious to observers that she truly loves her job. She presents difficult material with skill, effectiveness, and an ability to relate to the young people that she educates. Ms. Falco is also an educator with CSP's Human Trafficking Program and has trained advocates and first responders throughout California in human trafficking victim identification and response. Falco is a beloved member of CSP staff, and is known for her ability to adapt to a variety of speaking requests, sometimes with very limited notice. Despite a grueling presentation schedule, she meets the demands of her position while delivering quality work and maintaining a positive attitude.
Visionary in Victim Services Award, recognizes an individual or organization that has implemented a visionary approach to serving victims of crime.
Child Abuse Services Team (CAST)
CAST, based in Orange, began in 1989 as a multi-disciplinary approach to conducting child abuse investigations. At the time, children who were alleged to have been sexually abused were subjected to multiple interviews by numerous professionals at various sites. Now, CAST's innovative model coordinates on-site services that enable social services, law enforcement, deputy district attorneys, medical providers, and therapists to collaborate on investigations, which results in investigations that are completed in a more timely, thorough, and consistent manner. The child-focused, child-friendly environment at CAST serves to further reduce the trauma for children, and is a place where children can play comfortably and receive immediate support from experienced staff and volunteers. CAST is a member of the National Children's Alliance and is a nationally recognized leader and role model for its child-friendly approach to conducting child abuse investigations.
Valiant Award, granted to a law enforcement officer or other first responder who has assisted a civilian in crisis with patience and compassion.
Investigator Darrel McEntarffer
Invesigator McEntarffer is an investigator with the OCDA Human Trafficking Unit and works closely with Deputy District Attorneys, law enforcement, and CSP Victim Advocates to investigate, prosecute, and serve victims of human trafficking. Investigator McEntarffer's friendly and trusting demeanor has aided him in building rapport and strong positive relationships with a seemingly difficult and distrusting victim population. His diligence, hard work, and strong experience have resulted in increased safety for the victims he assists and successful prosecution of the cases he is involved in.
This year during the award's luncheon, CSP payed special tribute to the law enforcement community for the sacrifice and dedication they display throughout the community. Each police chief and sheriff had been invited to submit a nomination for the Valiant Award, and ten nominees received a CSP Valiant Coin to acknowledge the risks undertaken for the safety of our community. Holders of the CSP Valiant Coin were recognized for extraordinary efforts in fostering public trust and engaging communities in support of crime victims. The nominees included:
Nancy Nichols (Anaheim Police Department); Detective Jose Morales (Costa Mesa Police Department); Officer Michelle Atiyeh (Irvine Police Department); Detectives Leticia Hernandez and John Sanders (Irvine Police Department); Officer Randy Houston, Corporal Ignacio Maciel, Laurie McCaslin (Orange Police Department); Investigator Dave Maher (Tustin Police Department); Detective Rick Perez (Santa Ana Police Department)
The only event of its kind in Orange County, the CSP Victims' Rights Conference takes place during National Sexual Assault Awareness and Prevention Month in April and just before National Crime Victims' Rights Week (April 10-16, 2016).
CSP Victim Assistance Programs has been providing innovations in victim services for more than 30 years and has received both state and national recognition. For more information on CSP and its Victim Assistance Programs, visit www.cspinc.org. For more information on the CSP Victims' Rights Conference, visit www.cspinc.org/victimsrightsconference.
About Community Service Programs
Community Service Programs (CSP) is a nonprofit agency committed to serving children, adults and families living in Orange County who are involved with or at risk of involvement with the justice system. CSP's model programs assist over 111,000 community members annually, including abused children, struggling families, acting out adolescents, victims of crime, and those in need of mediation services. For more information on CSP and its programs, visit http://www.cspinc.org/.
###
Photo Captions: