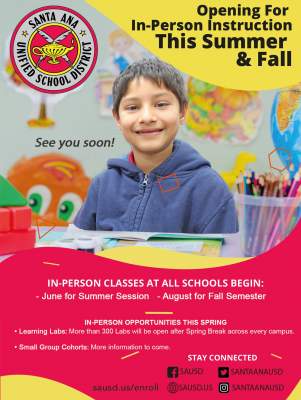 The Santa Ana Unified School District (SAUSD) will launch comprehensive, in-person Summer Programs starting June 8 that will offer options for visual and performing arts, career technical education, English language learner support, credit recovery, academic intervention, and other opportunities.
The summer programming will mark the return of students to in-person learning at SAUSD campuses. The District also continues to plan for the return of students to classrooms when the 2021-22 school year begins in August.

As part of the Summer Programs, the District will provide options for students to attend in-person, through distance learning, and through hybrid models. The District expects to serve up to 25,000 students, more than half of the total SAUSD enrollment, this Summer across all programs.
Summer School activities and offerings include:
• TK-12 Summer Enrichment: Provides students with opportunities to participate in the arts, STEAM, and other high-interest content areas that simultaneously target literacy and critical thinking skills
• TK-8 Summer Intervention: Provides targeted academic support to students with a specific focus on English Learners, foster youth, and students of low socioeconomic status, focusing on building foundational literacy and numeracy skills for students who have been specifically identified as needing additional support
• Career Technical Education (CTE): Courses offered in CTE in fields including medicine, esports, graphic arts, building trades, automotive, solar science, drone operations, and law
• High School Summer School: Provides students access to summer credit recovery, and prepares incoming 9th-graders for the high school transition
• Intermediate Bridge: A three to five day experience to support students in their transition from elementary to intermediate school
• Summer Language Academy: Offers students with limited English comprehension with language support
• Extended School Year (ESY): Offers special education and related services to eligible students with disabilities beyond the regular school year in accordance to his/her Individualized Education Program (IEP)
The District plans to build capacity through the Summer Programs among students, staff, and parents/guardians as it prepares for in-person learning across all schools in the Fall semester. The goal is to offer a variety of opportunities to meet the different needs of all students.