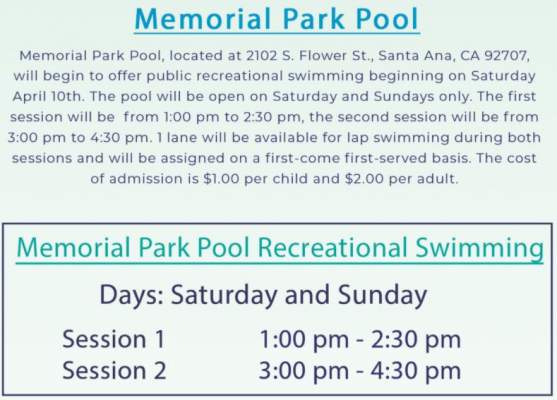 Memorial Park Pool, located at 2102 S. Flower St. in Santa Ana, will begin to offer public recreational swimming beginning on Saturday, April 10. The pool will be open on Saturday and Sundays only. The first session will be from 1 p.m. to 2:30 p.m., and the second session will be from 3 p.m. to 4:30 p.m. One lane will be available for lap swimming during both sessions and will be assigned on a first-come, first-served basis. The cost of admission is $1.00 per child and $2.00 per adult.
 
Proper swim attire is required. COVID-19 protocols will be enforced following local and federal swimming pool guidelines. At this time locker rooms, showers and drinking fountains are closed. Only patrons entering the water will be allowed into the pool area. Spectators and non-swimmers are not allowed at this time.
 
For more information, please contact pool operator Blueray Aquatics at info@swimblueray.com or (949) 887-5985 Monday-Friday from 9 a.m. – 4 p.m. Additionally, you can visit Memorial Park Pool during public swimming hours and the pool manager on duty will be glad to assist you with any questions. For information regarding swimming lessons, swim team, and lifeguarding certification courses, please visit www.swimblueray.com/memorial.
 
For more information: https://www.santa-ana.org/latest-news/recreation-swim
 
We look forward to seeing everyone at the pool this season!
La natación recreativa empieza el 10 de abril

Spanish/español: https://bit.ly/3cXZmjf
Bơi giải trí bắt đầu vào ngày 10 tháng 4
 
Vietnamese/Tiếng Việt: https://bit.ly/3fVIYls