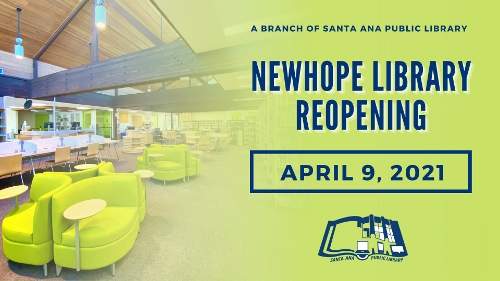 On April 9, 2021, the Newhope Public Library will reopen to the public with expanded hours Monday through Friday from 10 a.m. to 6 p.m. at 122 N. Newhope St. Newhope Library has been busy receiving various upgrades and improvements that youth and residents of all ages will be sure to enjoy.
These upgrades include:
• An improved collection with age-appropriate content for children and young adults.
• New library furniture featuring designs and colors that are fun and attractive for children and youth.
• A media lab featuring cutting-edge technology for youth activities and STREAM (science, technology, reading, engineering, art, mathematics) based programming.
Learn more: https://www.santa-ana.org/library/newhope-library-reopening
Reapertura de la Biblioteca Newhope el 9 de Abril
Spanish/español: https://bit.ly/3rZcw3I
Thư viện Newhope mở cửa trở lại ngày 9 tháng 4
Vietnamese/Tiếng Việt: https://bit.ly/39NTtDw