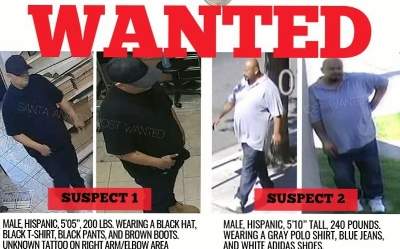 On 07/13/2019, at approximately 4 P.M., suspect 1 walked into the victim business, at 200 Block E. Warner Avenue, in Santa Ana, and began speaking to the employees. Suspect 2 was waiting outside acting as a lookout. While in the business, suspect 1 showed two of the victims a firearm concealed under his t-shirt. Suspect 1 then ordered the victims towards the back of the business where a third victim was. At this point, suspect 1 demanded the money from the business. Fearing for the lives of the employees, the third victim gave the suspect $5,000.00.
Suspect 1 subsequently walked out of the business where he met suspect 2. Both suspects were last seen running northbound from the business.
Suspect 1 was a male Hispanic who was about 5′ 5″ tall and weighed approximately 200 lbs. and was wearing a black cap, black t-shirt and brown boots. He had an unidentified tattoo on his right art/elbow area. Suspect 2 was a male Hispanic who was about 5′ 10″ tall at 240 lbs. in a gray polo shirt, blue jeans and white adida shoes.
Anyone with information on suspect's whereabouts is asked to contact Detective Cpl. D. Padron at (714) 245-8545 or dpadron@santa-ana.org