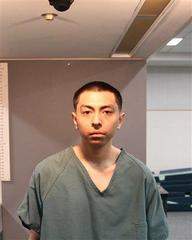 On Monday, May 10, 2021, at 10:33 PM, Santa Ana Police officers responded to a call of a male shot in the 1900 block of South Fairview Street. Officers located the male unresponsive with an apparent gunshot wound to his upper torso. Orange County Fire Authority responded and pronounced the subject deceased. SAPD Homicide Detectives responded and assumed the investigation. The Orange County Coroner's Division conducted their investigation and identified the victim as Froylan Vazquez (24) of Santa Ana.
During the preliminary investigation, a black truck was captured on surveillance video fleeing the scene through the alley immediately after the shooting. On Wednesday, May 12, 2021, utilizing surveillance cameras at various locations, coupled with investigative resources, homicide detectives located the suspect vehicle parked in front of a residence located in the 2000 block of South Baker Street.
On Thursday, May 13, 2021, at approximately 12:40 AM, the suspect was taken into custody with the assistance of the Santa Ana Gang Unit, Major Enforcement Team and Career Criminal Unit. The suspect was identified as Jose Antonio Mejia-Garcia (19) of Santa Ana. During the execution of a search warrant at the suspect's residence, a 9mm handgun was recovered.
Homicide detectives interviewed the suspect who made incriminating statements. With the concurrence from the Orange County District Attorney's Office, SAPD Homicide detectives booked Mejia-Garcia for CPC 187- Murder.
The motive for the murder appears to be a result of a dispute over a female. Anyone with additional information on the case is asked to call SAPD Homicide Section detectives at (714) 245-8390, or Orange County Crime Stoppers at 1-855-TIP-OCCS.