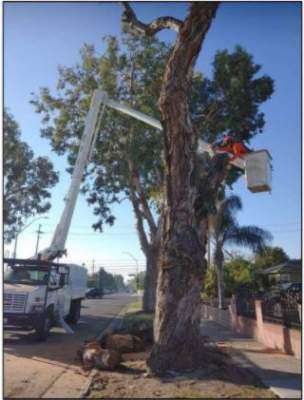 On Monday, Oct. 26, 2020, the City of Santa Ana experienced Santa Ana Winds with speeds in the range of 25 to 35 mph and with gusts exceeding 50 mph.
The City's Public Works Maintenance Services Division Team was prepared and quick to respond to over 250 service calls from the public for fallen trees, tree limbs and tree brush citywide. Staff worked through the day and late evenings Oct. 26-29 to ensure the streets and sidewalks were safe, accessible and clean. The core areas of the wind impacts were located in the central and eastern part of the city.
On Oct. 26, Maintenance Services staff responded to 258 calls for tree services, including:
• 162 tree work orders
• 31 fallen trees
• 53 tree limbs down
Staff also increased street sweeping services to lessen the delays experienced from the large amount of debris the wind produced by adding four additional sweeper trucks to assist in expediting the street cleaning.
To report downed trees and debris, call the Santa Ana Public Works Agency at (714) 647-3380, email PWADispatch@santa-ana.org or download the mySantaAna app.
Más de 250 Llamadas de Servicio Después de la Tormenta de Viento
El lunes 26 de octubre de 2020, la Ciudad de Santa Ana experimentó vientos de Santa Ana con velocidades en el rango de 25 a 35 millas por hora (mph) y con ráfagas de más de 50 mph.
El equipo de la División de Servicios de Mantenimiento de Obras Públicas de la Ciudad estuvo preparado y respondió rápidamente a más de 250 llamadas de servicio del público por árboles caídos, ramas de árboles y escombros de árboles en toda la ciudad. El personal trabajó durante el día y las tardes del 26 al 29 de octubre para asegurar que las calles y banquetas fueran seguras, accesibles y limpias. Las áreas centrales de los impactos del viento se ubicaron en la parte central y del este de la ciudad.
El 26 de octubre, el personal de Servicios de Mantenimiento respondió a 258 llamadas para servicios de árboles, que incluyen:
• 162 órdenes de trabajo de árboles
• 31 árboles caídos
• 53 ramas de árboles caídas
El personal también aumentó los servicios de barrido de calles para disminuir los retrasos experimentados por la gran cantidad de escombros que produjo el viento al agregar cuatro camiones barredores adicionales para ayudar e acelerar la limpieza de las calles.
Para reportar árboles y escombros caídos, llame a la Agencia de Obras Públicas de Santa Ana al (714) 647-3380, envíe un correo electrónico a PWADispatch@santa-ana.org o descargue la aplicación mySantaAna.