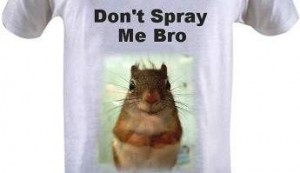 The Orange County Vector Control District (OCVCD) has created a formal response to the hundreds if not thousands of emails and calls they have received from Santa Ana residents concerned about chemicals being sprayed in their neighborhoods.  The full response is below.  It is pretty clear that they still want to spray in Santa Ana.
The OCVCD is still harping on the fact that Santa Ana is leading the County in West Nile Virus infections even though there has been only one death in our city due to this disease.  Santa Ana residents have come down with 26 cases of the West Nile Virus – out of some 350,000 residents.  For comparison's sake 12 residents of Anaheim have come down with the West Nile Virus.  Click here to see the latest updates on Orange County West Nile Virus cases.
Consider that the Orange County Health Care Agency reported, in February of this year, 16 deaths due to influenza.  The common cold kills scores of Americans every year as the elderly often are struck by secondary bacterial respiratory infections.  And the Center for Disease Control says that the West Nile Virus is no reason to panic:
Fortunately, most people infected with WNV will have no symptoms. About 1 in 5 people who are infected will develop a fever with other symptoms. Less than 1% of infected people develop a serious, sometimes fatal, neurologic illness.
Overreacting to one death in our city by dumping chemicals in our neighborhoods is highly questionable to say the least.  We provided ample research in an earlier post about the alternatives to spraying chemicals in our community.  Safe, nontoxic mosquito traps are also now commercially available.  Here is an example.
Here is the response from the Orange County Vector Control District:
Since June, the Orange County Vector Control District (OCVCD) has worked closely with the City of Santa Ana to minimize the impact of West Nile virus (WNV) on the people of Santa Ana. This partnership began prior to the announcement of the first human infection based on early mosquito trapping data. OCVCD noticed an extremely high percentage of trapped mosquitoes were testing positive for WNV.

OCVCD staff worked with Santa Ana staff to eliminate mosquito producing habitat in storm channels, parks, golf courses, and out of service pools. OCVCD staff even hitched a ride from the O.C. Sheriff's department helicopter to look for potential mosquito producing habitat. OCVCD reduced the cycle time for treating street gutters and underground storm sewers to week. Staff posted all of the involved neighborhoods with signs calling on residents to take a few steps to reduce their chances of becoming victims. Staff also went door to door in hot spots trying to get into backyards to find and eliminate any mosquito breeding. When the door-to-door effort was only partially successful because the residents were often at work during the week, OCVCD management authorized overtime to allow staff to visit Santa Ana neighborhoods on the weekends.

OCVCD has suspended rat service calls to concentrate on controlling mosquitoes. In spite of the extra effort in 2014, Santa Ana led the County in human WNV infections. It was only after pulling out all the stops and still not curbing the infection rate did OCVCD even consider neighborhood fogging. OCVCD believes that between their efforts and the efforts of the City, all of the accessible sites are under control. OCVCD even went so far as to obtain an area warrant to allow access to backyards to treat out of service swimming pools.

The decision to fog neighborhoods came only after all other efforts had failed to stop the continued infection of Santa Ana residents. The material being used is safe, it does not need to be rinsed off of cars, furniture or anything else left out during treatment. Any risk posed by the treatment is a fraction of the risk represented by WNV carrying mosquitoes.

Below are answers to frequently asked questions about adult mosquito control.

Adult Mosquito Control Application FAQ's

Q. What will trigger spraying?

A. If West Nile virus is detected in the community, the District's initial response will be to intensify its efforts to reduce mosquito-breeding sites and increase its levels of larviciding in those areas in which West Nile virus has been found. Reducing the population of adult mosquitoes with pesticides (adulticides) that are registered by the US Environmental Protection Agency (US EPA) will be done if necessary to prevent human illness or to suppress a heavy nuisance infestation of mosquitoes. The decision to fog, either by truck-mounted foggers or by aircraft, will be based on surveillance information or the documentation of West Nile virus activity at a level that indicates a threat to human health. Fogging will be concentrated in areas most at risk for disease occurrence and will be conducted by certified and licensed applicators. The District's aggressive campaign against mosquito larvae is intended to minimize the need to use adulticides.

Q. What pesticides will you use?

A. When necessary, our District may use ground and aerial application of pesticides to kill mosquitoes that pose a health risk to the residents and visitors in Orange County. In the case of adulticiding, or targeting adult mosquitoes, we use synthetic versions of botanical insecticides (plant derived compounds) that include the pyrethroid containing compounds AquaANVIL(TM) (US EPA REG. NO. 1021-1807-8329). All of the products we use are registered with the US Environmental Protection Agency and applied according to label directions by our trained, certified technicians. Click here for more information on pesticides used in adult mosquito control (http://www2.epa.gov/mosquitocontrol).

Q. What risks are there to the residents of Orange County?

A. The risks to the public and to the environment are very low. Mosquito adulticides are applied as ultra-low volume (ULV) fog. ULV applications involve small quantities of active ingredient in relation to the size of the area treated, typically less than 1.0 ounces per acre, which minimizes exposure and risk to people and the environment.

Q. Should I take steps to reduce exposure to pesticides during adult mosquito control fogging?

A. Generally, there is no need to relocate during mosquito control fogging. The pesticides have been evaluated for this use and found to pose minimal risks to human health and the environment when used according to label directions. All of the products we use are registered with the Environmental Protection Agency for controlling mosquitoes and protecting the public. Although mosquito control pesticides pose very low risks, some people may prefer to avoid or even further minimize exposure. People who suffer from chemical sensitivities or feel fogging may aggravate a preexisting health condition may: Consult their physician or local health department and take special measures to avoid exposure. Close windows and turn off window-unit air conditioners when fogging is taking place in the immediate area.

Q. Where will the fogging take place?

A. The spraying will take place in areas of concern, as determined by our mosquito and disease surveillance programs. Our trained and certified technicians use a variety of surveillance techniques and treatment criteria to ensure effective mosquito control with the least amount of risk to our residents and our environment.

Q. Are these insecticides exclusive to mosquitoes that transmit West Nile virus?
A. No. The pesticides we use target a variety of mosquitoes than can transmit West Nile virus as well as other diseases.

Q. Will fogging pesticides hurt my vegetables or my car?

A. No. To our knowledge, there is no evidence to suggest harm to vegetables or cars. AquaANVIL poses little risk to people or the environment and is labeled to fog over all crops. These materials have been used extensively throughout the country for decades.

Q. Is fogging your last resort?

A. Fogging is the only known way to control adult mosquitoes. The majority of our mosquito control is done when the mosquitoes are in the water in their larval form. We are fogging for adult mosquitoes because adult mosquitoes in the area are infected with West Nile virus and are capable of infecting people.

Q. Why are some mosquito control agencies aerial fogging and some are not?

A. As part of our Integrated Vector Management (IVM) program, every effort is placed on preventing mosquito production in the first place by eliminating standing water, using mosquitofish, or larvaciding. When and if aerial fogging becomes necessary to protect public health, we will use materials registered with the Environmental Protection Agency exactly for this purpose. We will make every effort to inform residents should fogging be necessary. All mosquito control agencies share the same goal; to protect public health; however, each agency operates autonomously and has the ability to protect public health in a manner they deem appropriate. Each situation is unique and must be evaluated exclusively to determine the best course of action given the terrain, type of mosquito, weather, etc.

Q. Many Districts rely heavily on adulticiding as their primary form of control. Does your agency?

A. We do not. We practice Integrated Vector Management relying on biorational larvacides, with adulticides reserved for situations where other methods would be ineffective to protect public health.

Q. How can I learn about adult mosquito control application events?

A: Announcements about adult mosquito control applications will be posted to our website http://www.ocvcd.org Pay attention to the local media for announcements about fogging and remain indoors during applications in the immediate area.

If you have any questions, please don't hesitate to contact:

Jared Dever, MPA, Director of Communication, Orange County Vector Control District 

13001 Garden Grove Blvd., Garden Grove, CA 92843

714- 971-2421, 949-971-2070, www.ocvcd.org, jdever@ocvcd.org 
_______
If you are unhappy about the spraying, here is who you should contact: