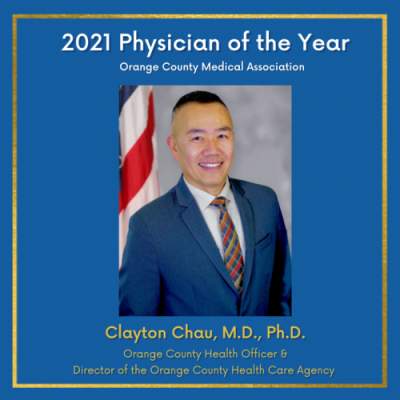 Chairman Andrew Do and Vice Chairman Doug Chaffee of the Orange County Board of Supervisors congratulate Dr. Clayton Chau, Orange County Health Officer and Director of the Orange County Health Care Agency (HCA), for being awarded the 2021 Physician of the Year by the Orange County Medical Association.
Dr. Chau has spearheaded Orange County's robust and equitable COVID-19 response throughout the pandemic. His effective leadership on efforts to provide access to COVID-19 testing and vaccines has led our county to have among the best COVID-19 numbers in the State throughout this past year.
As the Director of HCA, Dr. Chau built his success upon a wealth of experience inside and outside of Orange County. Before his current position, Dr. Chau served as a member of HCA's Behavioral Health Services team from 1999-2012 and as the Chief Clinical and Strategy Officer of Mind OC, a not-for-profit organization that prompted the advancement of Be Well OC.
Additionally, Dr. Chau served as the Regional Executive Medical Director of the Institute of Mental Health and Wellness in Southern California for Providence Health, the country's third-largest health system. He was appointed by the 23rd U.S. Secretary of Health and Human Services to be a member of the interdepartmental Serious Mental Illness Coordinating Committee. In his time as the Senior Medical Director of Health Services for Los Angeles Health Care Plan, he played an active role in the development of the Los Angeles County Whole Person Care Program.
Chairman Andrew Do and Vice Chairman Doug Chaffee recognize Dr. Chau for his integrity, excellence, compassion, and exceptional leadership throughout his career in public health. During these unprecedented times, Dr. Chau's contribution to the residents of Orange County in fighting against the pandemic is especially commendable.
Orange County Chairman Andrew Do represents the First District communities of Santa Ana, Garden Grove, Westminster, Fountain Valley, and Midway City. One of the first officials in the state to propose a face covering mandate, Chairman Andrew Do is advocating for science-based COVID-19 policies. In addition to health and safety-based COVID-19 response planning, he has reformed Orange County's mental health services, expanded access to health care, and led efforts to combat homelessness.
Orange County Vice Chairman Doug Chaffee represents the Fourth District, which includes the cities of Fullerton, La Habra, Brea, Placentia, and portions of Anaheim and Buena Park. In his first term, Vice Chairman Chaffee has combatted homelessness by supporting the creation of and allocating funding to the Buena Park and Placentia Navigation Centers and has spurred economic development by reinvesting $14.5 million to small businesses in the Fourth District.
Declaración del Presidente Andrew Do y Vice Presidente Doug Chaffee
El Presidente Andrew Do y el Vicepresidente Doug Chaffee de la Junta de Supervisores del Condado de Orange felicitan al Dr. Clayton Chau, Funcionario de Salud del Condado de Orange y Director de la Agencia del Cuidado de la Salud del Condado de Orange (HCA), por haber sido el Médico del Año 2021 por parte de la Asociación Médica del Condado de Orange.
Dr. Chau ha encabezado la respuesta sólida y equitativa del COVID-19 del Condado de Orange durante toda la pandemia. Su liderazgo eficaz en los esfuerzos para brindar acceso a las pruebas y las vacunas de COVID-19 ha llevado a nuestro condado a tener uno de los mejores números de COVID-19 en el estado durante el año pasado.
Como Director de HCA, Dr. Chau basó su éxito en una gran experiencia dentro y fuera del Condado de Orange. Antes de su puesto actual, Dr. Chau se desempeñó como miembro del Equipo de Servicios de Salud Conductual de HCA desde 1999 a 2012 y como Director Clínico y de Estrategia de Mind OC, una organización sin fines de lucro que impulsó el avance de Be Well OC.
Además, Dr. Chau se desempeñó como Director Médico Ejecutivo Regional del Instituto de Salud Mental y Bienestar en el Sur de California para Providence Health, el tercer sistema de salud más grande del país. Fue designado por el 23° Secretario de Salud y Servicios Humanos de los Estados Unidos para ser miembro del Comité Coordinador Interdepartamental de Enfermedades Mentales Graves. En su tiempo como Director Médico Senior de Servicios de Salud para el Plan de Atención Médica de Los Ángeles, desempeñó un papel activo en el desarrollo del Programa de Atención Integral a la Persona del Condado de Los Ángeles.
El Presidente Andrew Do y el Vicepresidente Doug Chaffee reconocen Dr. Chau por su integridad, excelencia, compasión y liderazgo excepcional a lo largo de su carrera en salud pública. Durante estos tiempos sin precedentes, la contribución de Dr. Chau a los residentes del Condado de Orange en la lucha contra la pandemia es especialmente encomiable.
El Presidente del Condado de Orange, Andrew Do, representa a las comunidades del primer distrito de Santa Ana, Garden Grove, Westminster, Fountain Valley y Midway City. Uno de los primeros funcionarios del estado en proponer un mandato de cubrebocas, el Presidente Andrew Do está abogando por políticas de COVID-19 basadas en la ciencia. Además de la planificación de respuesta al COVID-19 basada en la salud y la seguridad, el Presidente Do ha reformado los servicios de salud mental del Condado de Orange, ha ampliado el acceso a la atención médica y ha dirigido esfuerzos para combatir la falta de vivienda.
El Vicepresidente del Condado de Orange, Doug Chaffee, representa al Cuarto Distrito, que incluye las ciudades de Fullerton, La Habra, Brea, Placentia y partes de Anaheim y Buena Park. En su primer mandato, el Vicepresidente Chaffee ha combatido la falta de vivienda apoyando la creación y asignación de fondos a los centros de navegación de Buena Park y Placentia y ha estimulado el desarrollo económico al reinvertir $14.5 millones en pequeñas empresas en el Cuarto Distrito.