The SAUSD will begin the fall semester Aug. 16, 2021 in-person across all schools.
Online options will also be available for families who have that preference. Hybrid learning however will not be made available.
Click here to access the Academic Calendar.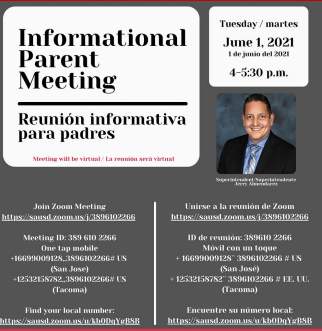 The SAUSD Superintendent will be hosting a town hall meeting on Tuesday, June 1, to provide the latest information on the return to in-person instruction this August, and the return of in-person instruction for our summer
programs that start June 8. The meeting will take place from 4 to 5:30 p.m. To participate via
zoom, login on June 1 at https://sausd.zoom.us/j/3896102266.