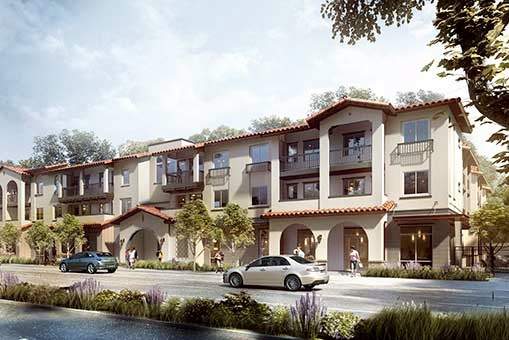 Community: Jamboree Housing Breaks Ground on Santa Ana Veterans Village

A ceremonial groundbreaking ceremony was held Monday, January 7, 2019 to celebrate what will become the largest veterans housing community in Orange County. The Santa Ana Veterans Village, located in west Santa Ana on First Street near Harbor Boulevard, will provide 75 permanent supportive housing units for homeless veterans and their families.
The completed village will include a Spanish-style, u-shaped three story building containing furnished one- and two-bedroom apartments, a 4,500-square foot community center and 10,000 square feet of active open space including barbecues, a community garden, dog run, and basketball half court.
With funding provided by the City of Santa Ana and County of Orange, Santa Ana Veterans Village is a project of Jamboree Housing. Jamboree's design concept for this innovative development is "to be a sanctuary of stability and a hub of hope" for some of Orange County's most vulnerable veterans. A comprehensive veteran services center will provide onsite mental health counseling, wellness services, employment services and legal assistance to help tenants rebuild their lives after struggling with homelessness.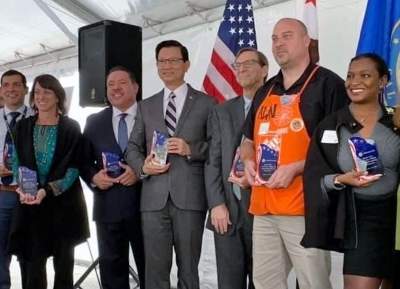 A 2017 survey of Orange County's homeless population found that 12% of the homeless were veterans. Since the release of the survey, the County of Orange adopted a plan to fund construction of 2,700 supportive housing units over the next three to five years. Jamboree's Santa Ana Veteran's Village is the first project of this countywide plan.
"Our success is possible in Santa Ana because of our commitment to our residents and the most vulnerable members of our community, especially our military veterans," said Mayor Pro Tem Villegas. "As we continue all of our collective efforts to provide shelter, housing and effective law enforcement we will see less street homelessness and a better quality of life for all."
Federal Judge David Carter spoke at the groundbreaking ceremony and recognized the project as another best practice and model for addressing homelessness in Orange County.
About City of Santa Ana
Santa Ana is downtown for the world famous Orange County, California. As the County Seat, home to a vibrant evening scene and one of the most diverse communities in California, Santa Ana is gaining national attention for its efforts to innovate and address a changing County. Over 1,200 City employees work hard every day to deliver efficient public services in partnership with our community to ensure public safety, a prosperous economic environment, opportunities for our youth, and a high quality of life for residents. Learn more at http://www.santa-ana.org.