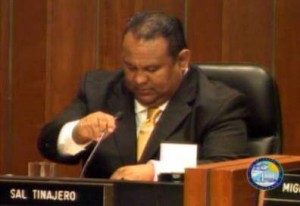 Mayor Pro Tem Sal Tinajero just voted to blow a lot of our money!
Well, it's over.  The Santa Ana City Council has apparently negotiated an exit settlement with their City Manager, Paul Walters, after seven months on the job – and after he saved the city from a budget crisis last year, according to my sources.
Walters will leave as both City Manager and Chief of Police.  Yes, the Council is going to blow a lot of money on this – he can choose a one-year severance package — essentially a lump sum of $265,000 — or receive three years and eight months of city-paid military service retirement credit, according to the Voice of OC.
But Walters has leverage as his contract says he can return to his old job of Chief of Police.  And he cannot be fired from that job without cause.
Walters attorney, Wendell Phillips, told the O.C. Register that, "I don't think they understood the depth and breadth of what they embarked upon until they got into the middle of it."
Our clown Council got what they wanted.  But do they realize yet what they have done?  And will this lead to a recall election?