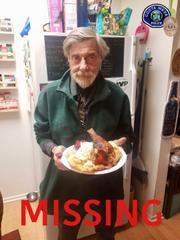 Costa Mesa Police Department
Advisory: We are actively searching for an adult male with memory issues who went missing yesterday
The Costa Mesa Police Department is actively searching for a missing adult male that went missing yesterday.
On Dec. 1, 2018, Douglas Kenyon, 67 years old, from Costa Mesa, left his residence and went missing. He has memory issues and cognitive difficulties.
His vehicle was located unoccupied in the area of the Interstate 405 and State Route 133. He is a male white, approximately 5 feet 8 inches tall, 140 pounds, with blue eyes, a grey beard, and sandy grey hair. He was last seen wearing grey sweatpants, a grey jacket, and a white, orange and blue beanie that says Hoag Hospital.
Anyone with information on his whereabouts or who may have seen him is asked to contact the Costa Mesa Police Department at 714-754-5252.