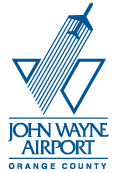 FOR IMMEDIATE RELEASE: January 17, 2012
Contact: Jenny Wedge, (949) 252-5182 (office), jwedge@ocair.com
TERMINAL B PASSENGER SECURITY SCREENING LANES CLOSE FOR CONSTRUCTION BEGINNING WEDNESDAY, JANUARY 18
SANTA ANA, Calif. – The passenger security checkpoint in John Wayne Airport's Terminal B will be closed beginning Wednesday, January 18 for approximately two weeks. During this time, passengers departing John Wayne Airport should plan ahead giving themselves extra time to get through screening and find their gate.
Tips for passengers and visitors to John Wayne Airport:
Passengers flying with United or US Airways may still check in at the ticket counter in Terminal B, however they will be directed to the security checkpoint in Terminal A or C during construction;
Passengers flying United or US Airways who do not need to check bags or visit the ticket counter may go directly to Terminal A or C security screening checkpoints;
All drop-off and pick-up locations in front of all three Terminals remain the same for visitors and passengers;
Visitors meeting and picking up United and US Airways passengers will continue to meet them at Terminal B arrivals level/baggage claim, or Terminal B departures level near the exit lane adjacent to Terminal B security screening.
The temporary closure to the Terminal B security checkpoint allows for updating equipment at the security checkpoints. The Terminal A security checkpoint will be updated once work is complete in Terminal B.
Passengers should give themselves 90 minutes to two hours to find parking, check their luggage and go through the security checkpoint to ensure they are at their gate in time for their flight. For the latest TSA travel tips and security requirements, log on to www.ocair.com or visit www.tsa.gov.
About John Wayne Airport:
John Wayne Airport (SNA) is owned by the County of Orange and is operated as a self supporting enterprise that receives no general fund tax revenue. The Airport serves approximately nine million passengers annually, reaches 20 non-stop destinations in the United States and Canada and is served by 10 commercial passenger airlines. More information can be found at www.ocair.com.
# # #