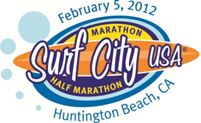 SURF CITY USA® MARATHON RECORDS EARLIEST-EVER SELLOUT; FIELD SIZE CAPPED AT 20,000 TO PRESERVE THE RUNNING EXPERIENCE
HUNTINGTON BEACH, Calif. – Race organizers today announced that the Surf City USA® Marathon and Half Marathon races are sold out for the seventh consecutive year. The largest combined oceanfront marathon and half marathon event in California, Surf City showcases 20,000 participants and 50,000 spectators from all 50 states and 18 foreign countries on Super Bowl Sunday, February 5, 2012. A record 100,000 attendees are anticipated to attend the two-day Active Lifestyle Beach Expo. Information is available at www.runsurfcity.com.
Nearly 3000 members of the Kona Brewing Longboard Legacy Club helped fuel the early demand for race entries this year. These runners have participated for at least three consecutive years, earning cool rewards and receiving special recognition for every year the streak is kept alive. Key among these is a special emblem for Surf City's award-winning "Finisher's Medal", which was recognized as among the nation's top medals by Marathon and Beyond for the third consecutive year—a first in the magazine's history.
Despite the unprecedented early sell-out (January 5) and strong continuing demand for race slots, according to Surf City GM Amy Tomchak, "The race field was capped at 20,000 runners to preserve the spectacular running experience and ensure the participants don't feel crowded." Tomchak added, "Each year we conduct extensive polling of the runners in order to continually evolve the race."
To further enhance the race experience in 2012, the Surf City Marathon continues to develop its extensive medical program and is taking "wave starts" to a new and scientific level. Fifteen different starting waves will each have their own unique timing based on runner's speed, projected finish times and extensive "real-time" communication from spotters and GPS trackers located throughout the course.
Additionally, Surf City USA's medical team, directed by local MD Dr. Bassil Aish, assesses all race day medical needs and administers acute first aid when necessary. Dr. Aish supervises 150 health care professionals who work the medical stations along the course and at the finish line. His team includes doctors, nurses, physical therapists, athletic trainers, massage therapists, chiropractors, emergency medical technicians and other certified medical staff. Four engine stations from the Huntington Beach Fire Department are positioned along the course to provide added support.
Historically, the Surf City USA Marathon features myriad heart-warming human interest stories including hundreds of runners who have fought and conquered disease, obesity and personal loss to those who participate on behalf of several notable charities and causes including autism, cystic fibrosis, cancer and many more. Chief among these is Irvine-based Free Wheelchair Mission whose Run for Mobility has raised more than $2,000,000 during the past six years to send specially engineered wheelchairs around the world.
Other stories of courage and self-sacrifice include Lisa Villalpando (Redlands, CA) a mother running in memory of her son and his family who died recently in a car accident; Kevin Hall (Newport Beach, CA) who decided to run his first half marathon now while going through chemo for the cancer he was diagnosed with on September 2011; Sarah Reyna (Newport Beach, CA) who is finally able to complete her goal to run a marathon after being hit by a car during one of her training runs five years ago; and Carolyn Tanaka (Albuquerque, NM) who credits her new active lifestyle to her 200 pound weight loss in one year.
Seventy one Septuagenarians (age 70 – 79) and three Octogenarians (age 80 – 89) prove that the "Fountain of Youth" is alive and well in Surf City. For most people the thought of running a half marathon (13.1 miles) at age 85 seems farfetched, but Dorothy Joy (Yucaipa, CA) relishes the upcoming challenge. Dorothy began running late in life, is a veteran of Surf City and is the oldest among the three half marathoners (two women, one man) age 80 or older.
About The Surf City USA Marathon
The 16th Surf City USA Marathon is held on Super Bowl Sunday, Feb. 5, 2012 and plays host to over 20,000 runners from around the world. Staged in front of The Waterfront Beach Resort, a Hilton hotel, this exclusive oceanfront course runs on Pacific Coast Highway, past the famous Huntington Beach Pier and winds through the surfing beaches that define Southern California. Weekend highlights include the two-day Active Lifestyle Beach Expo and Michelob Ultra Post Race Beer Garden. Surf City USA Marathon Official Sponsors include Oakley, Michelob Ultra, the Waterfront Beach Resort, Kona Brewing, Arrowhead, Vitalyte Sports Drink and Hoag Hospital. Through Free Wheelchair Mission's Run for Mobility, the race as raised more than $2.0 million over the past six years and distributed nearly 40,000 specially engineered wheelchairs to needy and developing nations. More information is available at www.runsurfcity.com.
Press Contacts
Mike Kingsbury, Jennifer Hernandez
mike@teammkm.com, Jennifer@teammkm.com
MKM, (714) 375-2188