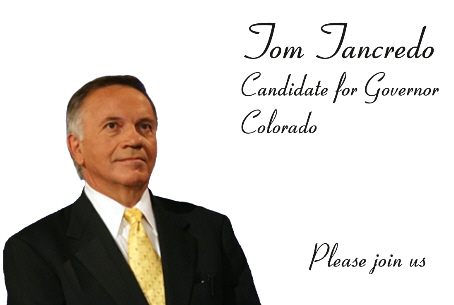 Why in the world is uber-conservative Tom Tancredo coming to Santa Ana tomorrow?  Tancredo used to be a Congressman out of Colorado.  He lost his seat, quit the GOP and is now running on the Constitutional Party Ticket, for Governor of Colorado.
This guy is a total nutter – and he HATES immigrants.  Why he would come to Santa Ana is a real mystery.
One of his campaign staffers sent me an email that included this excerpt:
Tom has been a long-standing conservative and leader in the anti-illegal immigration movement, as you know, for many many years—and taken more flack for his positions than most people can ever imagine. He needs the help of conservatives now in this race. Have the support of most tea party groups in CO, and he was a favorite speaker at the National Tea Party events. They just need to get the word. The ICE and border guys love him, they need the word. Conservatives (first) love him, but they also need the facts.
And get this, Bay Buchanan (Pat's sister) is his campaign consultant.  No bueno!
Here are the details in case you want to see this freak show for yourself:
Rob Luton would like to invite you to a reception for Tom Tancredo
Friday, October 1, 2010, 3:30 – 5:00PM
LaQuinta Inn, Irivine Room
2721 Hotel Terrace Drive, Santa Ana, CA 92705
$50 per person
RSVP: maria@tancredoforgovernor.co or phone: 303.870.2598
To RSVP for this event, fill out the form below.
Please put event code: O.C.Event
in the box below the Contribution Information field