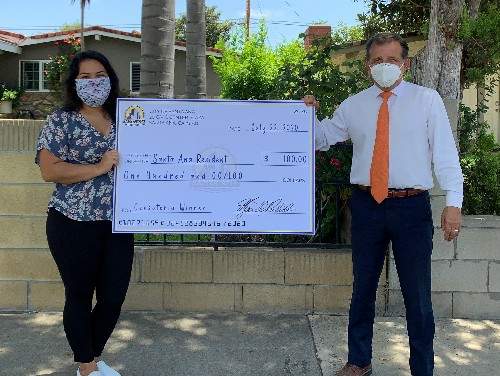 Ten Santa Ana residents are receiving a $100 Visa gift card for winning the City of Santa Ana's Censotería game – a twist on the Mexican bingo-style game, Lotería. Some of those winners got a surprise today, July 22, when Santa Ana Mayor Miguel A. Pulido personally delivered the prizes to their homes.
The Censotería took place on July 17 as part of the City's educational campaign to inform Santa Ana residents about the importance of completing the 2020 Census. The virtual game was broadcast live on the City's TV channel and YouTube channel. More than 2,500 Censotería game cards were distributed to residents across Santa Ana who participated safely from their homes.
"Congratulations to the winners of the Censotería and thank you to all Santa Ana residents who have filled out your Census form," Mayor Pulido said. "It's important for everyone to complete the Census so that our community receives its share of money to pay for necessary services and so that we have proper representation in our State and Federal governments."
Censotería was created by Angie Sanchez of La Luz Center in Sonoma and made possible with support from the Latino Community Foundation's Just Recovery efforts in Northern California and the Design Action Collective. The game is a fun way to spread public awareness about the Census.
This is especially important in Santa Ana, which in the 2010 Census had four of the five lowest-response Census tracts in Orange County. About three-fourths of Santa Ana residents are Latino, according to Census numbers, and it's estimated that about half of the population is foreign-born.
As of July 20, only 63.8% of Santa Ana households had completed the 2020 Census. The final self-response score for Santa Ana in the 2010 Census was 67.6%. Although residents have until Oct. 31, 2020, to complete the Census, Census enumerators will begin in-person non-response follow-up in August.
The Censotería game was so successful that City staff will be conducting another game for Santa Ana residents on Friday, July 31, at 4 p.m. For more details on how to play, please visit www.santa-ana.org/2020Census. Watch the game on TV on Spectrum channel 3 and AT&T U-verse channel 99 or on the City's YouTube channel at www.youtube.com/cityofsantaanavideos/live.
For questions, please call the Santa Ana City Manager's Office at (714) 647-5200.