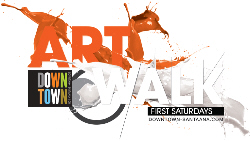 The next Downtown Santa Ana First Saturday Art Walk will be held on April 2nd!
Visual Arts / Music / Dance / Theatre / Dining
Four blocks of new and established galleries, studios, and artists lofts.
The Crosby 3rd Anniversary Party.  We're celebrating a beginning and an end -The Crosby's 3 year anniversary & MyHollowDrum's last FreakDown party EVER!!!!
Pudding, at Proof Bar, featuring DJ sets by Bob Gnarley, Might and Dcon.
Mujeres Y Flores II (celebrating GCS Santa Ana 2yr Anniversary) SPR FKR solo show
DJ Virtigo presents: Art Walk Society – live music during the Art Walk, at Proof Bar.
Mirror Image Opening.  Features etchings, wood block prints, and linoleum prints from the Grand Central Press, former GCAC artists-in-residence, and CSUF printmaking faculty.
Flamenco de la Santora.  For this edition of Flamenco de La Santora we'll explore the early Middle Eastern influences of Flamenco by placing the Flamenco guitar alongside the Persian tar and sitar, which are plectrum instruments similar to the oud and are precursors to the Spanish guitar.
Santora Building of the Arts
Grand Central Art Center
OCCCA ( Orange County Center for Contemporary Art )
Empire Building
and more !
Parking available on 3rd & Broadway, additional parking available on 4th & Birch.
See you there!  Click here to RSVP on Facebook.
Time: Saturday, April 2 · 6:00pm – 10:00pm
Location: Downtown Santa Ana Artists Village