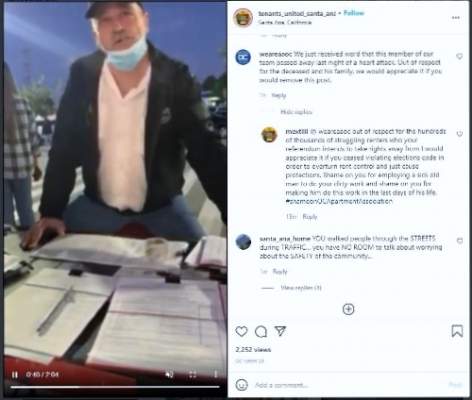 Tenants United of Santa Ana, a group of rabid rent control fanatics, lobbied the Santa Ana City Council for months to place a measure on the ballot allowing our residents to vote for rent control. However Mayor Vince Sarmiento and the rest of his Gang of Four (Johnathan Ryan Hernandez, Jessie Lopez and Thai Viet Phan) ended up approving a rent control and an eviction ordinance which was crafted in secret sessions and voted on without much public scrutiny. Surprise! Now Tenants United does not want our voters to have a chance to vote this up or down.
Tenants United is so anxious to stop a rent control measure from making our ballot that they have resorted to harassing individuals who are currently gathering signatures from local voters, on behalf of the California Apartment Association, to put a rent control measure on the ballot.
The Tenants United tactics have included filming the individuals who are earning an income by gathering the signatures. The videos are then placed on Tenants United Instagram account.
In one recent instance the rent control measure's backers kindly asked Tenants United to remove one of these videos because that particular signature gatherer had passed away. The response from Tenants United was "How sad that you are hiring people with poor health to lie to voters in order to defend your own greed." And of course they refused to take down the video.
The signature gatherers are telling folks that the rent control ordinance passed by Sarmiento and his Gang of Four will result in rent increases and they are not wrong! Rent control always results in LESS housing as developers and landlords end up converting apartments into condos and refuse to develop more housing stock in affected cities.
When it comes to rents it is all about supply and demand. If rents are too high that means we have more demand than supply. The answer is not rent control. The answer is building more workforce housing! Sadly in the many years that Sarmiento has been on our City Council the focus in our city has been on building condos and luxury apartments, not workforce housing.
There are however many affordable housing units that have become available in the past year and more on the way. There was no need for the City Council to rush into an ill-advised ordinance. But they did and now their opponents have the right to put a measure on the ballot and let our residents decide the matter.
Maligning the workers who are getting paid to collect signatures is abusive. Disrespecting a dead man is unbelievable but this shows you are totally fanatical the Santa Ana rent control mob has become. They are acting like thugs.
By the way, President Joe Biden said Wednesday that new inflation statistics showing America's prices are surging more than they have in 30 years, according to CNN. You think it is hard to pay your rent now! Biden's inflation mess will destroy the value of your income even more and leave the poor in an even larger hole. But does anyone at Tenants United understand economics enough to be worried about that?