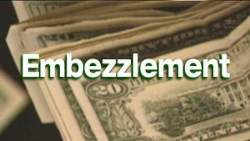 FOR IMMEDIATE RELEASE
Case # 18CF1623
Date: June 8, 2018
ACCOUNTING MANAGER CHARGED WITH GRAND THEFT AND FORGERY FOR EMBEZZLING MORE THAN $164,000 FROM COMMERCIAL LIGHTING BUSINESS IN SANTA ANA
SANTA ANA, Calif. – An accounting manager was charged this week with grand theft and forgery for embezzling more than $164,000 from a commercial lighting business in Santa Ana.
Defendant: Carol Sandoval Lopez, 45, Santa Ana
Charged on June 6, 2018, with the following felony counts:
Grant theft
(40) Forgery
Sentencing Enhancements:

Loss over $100,000
Property loss over $100,000
Aggravated white collar crime
Maximum Sentence: 27 years and eight months in state prison
Pre-trial hearing on June 15, 2018, 8:30 a.m. atDepartment C-55, Central Justice Center, Santa Ana
Bail: $165,000
Circumstances of the Case
At the time of the crime, Lopez was employed as the accounting manager for a commercial lighting business in Santa Ana and was responsible for maintaining the company's finances and financial records.
Between Aug.18, 2014, and July 6, 2017, Lopez is accused of writing 40 unauthorized checks made payable to "Cash" from her employer's account.
The defendant is further accused of forging the signature of the company's owner on each check, depositing all 40 checks, totaling more than $164,000, into her personal bank accounts, and later withdrawing the money from various ATMs.
In August 2017,the owner of the business discovered the theft and forgery after reviewing online banking records and finding several unauthorized checks made payable to "Cash."
Prosecutor: Senior Deputy District Attorney Marc Labreche, Major Fraud Unit.