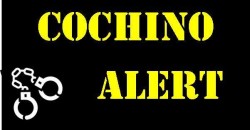 Alfredo Mendoza Heredia, a 39-year-old man, was charged Tuesday, Nov. 14 with sexually assaulting two girls over a period of several years, starting when they were 6 and 8 years old, after moving into a Santa Ana residence shared by several families, according to the O.C. Register.
Mendoza Heredia, who listed his occupation as a plumber, is currently being held without bail.
Mendoza Heredia allegedly befriended three families who were all living together in what had to be a very crowded house, that included the female victims, according to the SAPD.
Mendoza Heredia allegedly begain to sexually assault one of the girls back in 2011, when she was only six years old. The abuse continued until she was 11 years old. She told the SAPD investigators that the suspect would take her to various places after picking her up from school.
The other victim said that Mendoza Heredia began to molest her when she was only 8 years old and this allegedly continued until she was 13 on an "almost a nightly basis."
Mendoza Heredia will be arraigned today on five counts of committing forcible lewd acts on a child, three counts of lewd acts on a child younger than 14, and one count each of an attempted lewd act on a child younger than 14 and aggravated sexual assault of a child, with a sentence-enhancing allegation for multiple victims.