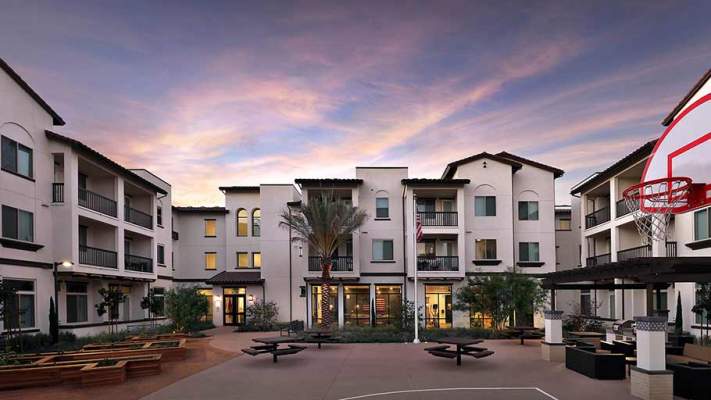 The City of Santa Ana and Jamboree Housing earned an award recognizing their public/private partnership to revitalize an underutilized and challenged property in Santa Ana. The award from the Orange County Business Council (OCBC) was presented virtually on Nov. 19 during the OCBC's 10th annual Turning Red Tape Into Red Carpet awards ceremony.
Santa Ana received an award in the Real Estate Reuse and Revitalization category for the Heroes Landing Project. The award recognizes the City's role, in collaboration with the developer, Jamboree Housing, in transforming an underutilized and blighted 1.54-acre vacant parking lot into the largest permanent supportive housing development in Orange County exclusively for homeless veterans.
Heroes Landing comprises 75 one- and two-bedroom apartments, 10,000 square feet of active open space – including a spacious courtyard, community garden and reflection walk – and a 4,500-square-foot community center that houses Jamboree's veterans services collaborative.
The development is the culmination of over 3 1/2 years of collaboration. The City made an early commitment to the project in April 2017 by investing 75 HUD-VASH project-based vouchers. The City's commitment enabled Jamboree to acquire the property and begin working to secure other sources of financing. The City also awarded $477,346 in HOME Investment Partnerships Program funds.
With the City's financial support, Jamboree Housing broke ground on the project in January 2019. After a year and a half of construction, they received their Certificate of Occupancy from the City in June 2020 and the project was fully leased by August in partnership with our Housing Authority.
Heroes Landing is expected to save the City of Santa Ana more than $2.5 million in emergency services, unnecessary hospitalizations, and other expenses annually by providing 75 homeless veterans with housing and services.
For more information about the project, visit www.jamboreehousing.com/blogs/affordable-housing-communities/heroes-landing.
It also was featured in The Orange County Register: https://www.ocregister.com/2020/07/02/at-heroes-landing-homeless-veterans-find-a-safe-harbor/
The City of Orange was also nominated in the Real Estate Reuse and Revitalization category for their new Philz Coffee Shop and the City of Fullerton for their new homeless Navigation Center. We congratulate our neighbors at the City of Orange and City of Fullerton on their nominations.