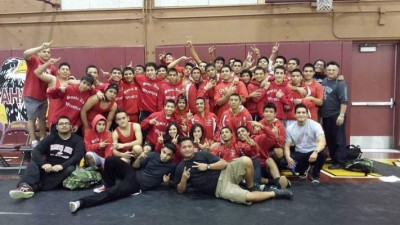 Santa Ana High School's Wrestling Team beat Oceanview and Orange tonight in a dual to win their 22nd League championship in a row.  The Saints now have a record of 104 – 0 in league duals since 1993.
Kudos to this year's coaching staff:
Jose Leon
Rudy Justo
Hum Barrera
Edgar Cisneros
Tim Byers
Luis Hernandez
Rafael Tenorio
Marco Solis
Gary Ayon
Frances Jerry Laforteza
And thanks should also go out to the "stat-girls" who don't have an easy job keeping score and helping Coach Scott Glabb:
Jessica Gutierrez
Jenny Chavez
Liz Anaya
Araceli Partida
Kim Garcia
Cindy Mijangos
Samantha
Stephanie Ramos
Santa Ana High School wrestling records begin when Coach Scott Glabb takes over the program in 1990. No one else had applied for the job. During one wrestling meet, Huntington Beach beat Santa Ana 72 – 0. Most of the kids came from troubled backgrounds – poverty, gangs, crime, broken families. Other teams feared hosting the team because of their reputation as vandals and thieves. Frustration overwhelmed Coach Glabb. Discipline problems, disrespect, and loss certainly weren't what he had signed up for. He gave up on winning and decided to invest his time on the kids instead. "At that point I decided that whatever it was that these boys were doing, it wasn't working for them," says Coach Glabb. "So, I thought I'd just become a mediocre coach with a mediocre wrestling team and would focus on trying to get these kids right with the Lord. Because that had worked for me." "The challenge wasn't trying to get them to win, but trying to get them to break their cycles of dysfunction, solve their daily problems and convince them to turn their lives around for the better.
Click here to learn more about Santa Ana High School's amazing Wrestling Team and Coach Glabb.