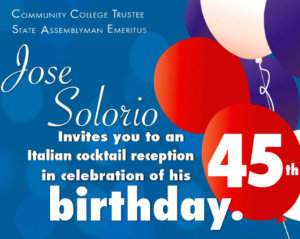 Rancho Santiago Community College District Trustee Jose Solorio is celebrating his 45th birthday on Wednesday, September 30, 2015, from 5:30 p.m. – 7:30 p.m, at Maggiano's Little Italy, at the South Coast Plaza, located at 3333 Bristol Street, in Costa Mesa.  This event is a fundraiser for Solorio's reelection campaign.
The cost to attend is $45 per person. Or you can be an event sponsor:
Platinum Sponsor – $5,000
Gold Sponsor – $2,500
Silver Sponsor – $1,000
Bronze Sponsor – $500
Please remit your checks to:
Solorio for College Board
P.O. Box 26063
Santa Ana, CA 92799
You can also donation online by clicking here.
To RSVP and for more information, please contact Maricela Taylor at (714) 794-8431 or Jose Solorio via e-mail at Jose@JoseSolorio.com.
About Jose Solorio
Community College Trustee Jose Solorio has as inspiring personal story to share.
The son of migrant farm workers, Trustee Solorio went from laboring as a teenager in the fields, alongside his parents, to earning a bachelor's degree from UC Irvine and a master's degree in public policy from Harvard University. After representing Anaheim, Garden Grove and Santa Ana in the State Assembly six years, he now serves central Orange County on the Board of Trustees for the Rancho Santiago Community College District.
In his role as our State Assemblyman, and now as Community College Trustee, he has focused his efforts on education, job creation, public safety and infrastructure improvements.
In the State Assembly, Trustee Solorio successfully worked with Governor Schwarzenegger and legislative leaders to author and co-author laws to reform state prisons, create the state's first gang czar, and secure grants to help prevent gang involvement and youth violence in Anaheim, Garden Grove and Santa Ana.
In the area of education, he authored laws to improve the way we measure academic achievement, help students learn English faster, train teachers to use data to improve classroom instruction, and reduce the high price of college student textbooks.