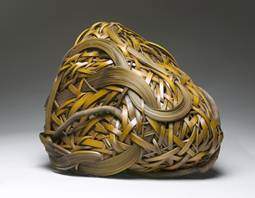 FOR IMMEDIATE RELEASE:
TRAVELING EXHIBITION EXPLORES THE EVOCATIVE, SENSUAL AND SCULPTURAL POWER OF CONTEMPORARY JAPANESE BAMBOO ART
Santa Ana, CA (August 20, 2015)—Bowers Museum in Santa Ana, California is pleased to announce Modern Twist: Contemporary Japanese Bamboo Art, an exhibition exploring the innovative shape bamboo art has taken since the mid-twentieth century. Curated by Dr. Andreas Marks, Minneapolis Institute of Arts and organized by International Arts and Artists, Modern Twist features a stunning selection of works from the Clark Center for Japanese Art and Culture. With rare wall-hung installations and pieces never before seen in the United States, this exhibition both engages and educates audiences about a vibrant cultural art form. Modern Twist is on view at Bowers Museum from September 19, 2015 through January 3, 2016.
Bamboo is a quintessential part of Japanese culture, shaping the country's social, artistic, and spiritual landscape. Although bamboo is an abundant natural resource, it is a challenging artistic medium with less than 100 professional bamboo artists in Japan today. Mastering the art form requires decades of meticulous practice learning how to harvest, split, and plait the bamboo. Modern Twist brings 17 of these artists to North American audiences, and their 38 works display a mastery of the supreme technical skills inherent in their innovative and imaginatively crafted sculptures.
The emergence of bamboo as a sculptural art form has religious and cultural roots. In Japan, functional objects have been woven from bamboo for hundreds of years. By the 8th century, bamboo baskets were incorporated into Buddhist ceremonies, and held flower petals that were offered to deities in sacred rituals. During the 15th and 16th centuries, bamboo vases, tea scoops, ladles, and whisks became important features of Japanese traditions, such as flower arrangements (ikebana) and tea gatherings (chanoyu and senchadō).
Bamboo is characterized by strength, flexibility, and lightness—bending, not breaking, with strong winds, while enduring harsh winters. This extraordinarily useful grass has been repurposed by the Japanese for centuries. Architecture, construction, cuisine, music, literature, art, and poetry have all benefited from bamboo.
Modern Twist examines the rising awareness of this medium as an innovative art form. In the last 100 years, the creativity and talent of bamboo basket makers has elevated their status from artisans to artists. These artists have redefined aesthetic conventions by experimenting with nonfunctional forms, and their creations have evolved from functional vessels to increasingly sculptural objects.
Since 1967, six bamboo artists have been named Living National Treasures. The Japanese government created this award after World War II in an effort to celebrate and preserve the nation's traditions and culture. Individuals considered for the honor are from areas highly valued throughout Japanese history, such as art, drama, and music. Being chosen as a Living National Treasure is a recognition of excellence in one's artistic field. In essence, the award establishes the recipient as a Cultural Ambassador, responsible for the dissemination, perpetuation, and future development of their designated art form. Only two living bamboo artists —Modern Twist's Katsushiro Sōhō (2005) and Fujinuma Noboru (2012)—currently hold this title. Katsushiro is represented in the exhibition by his piece, Sunset Glow, which demonstrates his impeccable craftsmanship and renowned execution of diverse techniques. Fujinuma Noboru's works, Spring Tide and Gentle Heart, exemplify the array of shapes and techniques that he has mastered, showcasing his level of perfection.
In addition, Modern Twist features works by other visionary artists: Matsumoto Hafū, Honma Hideaki, Ueno Masao, Uematsu Chikuyū, Nagakura Ken'ichi, Tanabe Chikuunsai III, Tanabe Yōta, Tanabe Shōchiku III, Tanioka Shigeo, Tanioka Aiko, Honda Shōryū, Mimura Chikuhō, Nakatomi Hajime, Sugiura Noriyoshi, and Yonezawa Jirō.
Modern Twist demonstrates that in the hands of master bamboo artists, a simple grass is transformed into a sculptural art. The exhibition celebrates these artists who have helped to redefine a traditional craft as a modern genre, inventing unexpected new forms and pushing the medium to groundbreaking levels of conceptual, technical, and artistic ingenuity.
Modern Twist was curated by Dr. Andreas Marks, Minneapolis Institute of Arts, Collection of the Clark Center, and organized by International Arts & Artists (IA&A), Washington, DC. Exhibition content was developed by Margalit Monroe, Asian Art Specialist and Senior Exhibitions Manager at IA&A. The exhibition was generously supported by the E. Rhodes & Leona B. Carpenter Foundation. The catalogue was supported by the Nomura Foundation, Japan Foundation, Los Angeles, Eric and Karen Ende, Alexandra and Dennis Lenehan, Gilda and Henry Buchbinder, and the Snider Family Fund.
Dr. Andreas Marks is Head of the Japanese and Korean Art Department at Minneapolis Institute of Arts. He is the former Director and Chief Curator of the Clark Center for Japanese Art and Culture in Hanford, California. Prior to this position, he was the Managing Director of an international exhibition and fair organizer based in Germany with branches in the U.S., the U.K., Australia, and China. He has a master's degree in East Asian Art History from the University of Bonn, and a Ph.D. from Leiden University in the Netherlands. Dr. Marks has curated and co-curated 14 exhibitions on various aspects of Japanese art including paintings, prints, ceramics, weaponry, as well as works of bamboo.
The Clark Center for Japanese Art and Culture in Hanford, California was formed to collect, preserve, study, exhibit, and educate the public about Japanese works of fine art. Through these means the Center hopes to further understanding of Japanese culture and foster friendship between Japan and the United States.
International Arts & Artists in Washington, DC is a non-profit arts service organization dedicated to increasing cross-cultural understanding and exposure to the arts internationally through exhibitions, programs and services to artists, art institutions and the public. Visit www.artsandartists.org
THE BOWERS MUSEUM
The Bowers Museum has earned an international reputation through its world-class exhibitions, including Warriors, Tombs and Temples: China's Enduring Legacy, Terra Cotta Warriors: Guardians of China's First Emperor, Secrets of the Silk Road, and Mummies – Death and the Afterlife: Treasures from the British Museum, as well as its own extensive art collections from throughout the Americas and the South Pacific. Additionally, the Bowers' Kidseum, located one block south of the main museum, offers a high-tech and interactive focus on its new mission of "Igniting Imagination through Exploration" spotlighting the excitement of art and archaeology.
Enjoy a leisurely luncheon at our award-winning restaurant, Tangata. Outdoor seating is also available, overlooking the Bowers historic mission-style courtyard from 11 a.m. to 3 p.m. Browse the rare and exotic at the Bowers Museum Gallery Store. It's more than just a shopping trip—it's a cultural experience.
Bowers Museum and Kidseum are closed on Mondays, Independence Day, Thanksgiving, Christmas Day, and New Year's Day. Regular operating hours: Tuesday through Sunday, 10 AM to 4 PM.
TICKETS weekday weekend
Adults $13* $15*
Seniors (62 & over) & Student $10 * $12 *
Children (under 12) Free* Free*
Purchase tickets online at bowers.org/tickets
*Pricing subject to change
FREE DAY
Bowers offers free admission to Santa Ana residents, with proof of residency, each Sunday, through a generous donation in memory of Dorothy Goerl and courtesy of the Lockhart Family.
BOWERS MUSEUM, in Santa Ana, is centrally located in the heart of Southern California.
Address: 2002 North Main Street, Santa Ana, CA 92706
Tickets and Information/ 714.567.3600
Group Tours: grouptours@bowers.org / 714.567.3680
Membership: membership@bowers.org / 714.567.3639
www.bowers.org
###
MEDIA CONTACTS:
Bowers Museum: Marni Farmer, 805.748.8636, marni.farmer@yahoo.com
International Arts & Artists: Alyssa Hockenberry, 202.338.0680 x217, alyssah@artsandartists.org