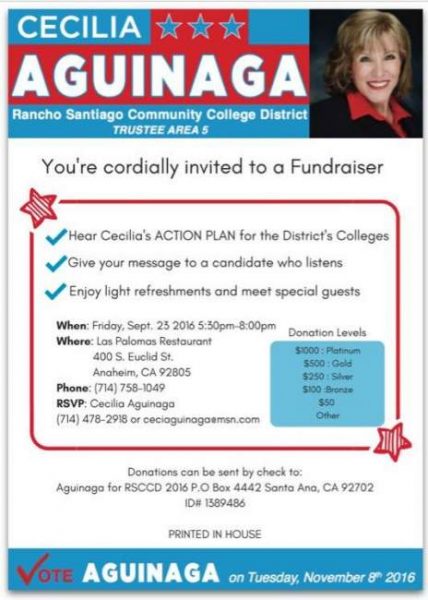 Cecilia Aguinaga, a Santa Ana Housing and Redevelopment Commissioner, is hosting a fundraiser for her campaign for the Rancho Santiago Community College District's Board of Education, Area 5, on Sep. 23, 2016, from 5:30 p.m. to 8 p.m., at Las Palomas Restaurant, located at 400 S. Euclid St., in Anaheim.
Aguinaga has been endorsed by the faculty association of the Rancho Santiago Community College District. She also was recently endorsed by U.S. Rep. Loretta Sanchez.

Aguinaga has served as:
• Teacher Assistant, Bilingual Special Education
• Vice President, PTA District Council Board
• Boardmember, Regional Occupation Program (ROP)
• Secretary, United Mexican-American Veterans Association
• Coordinator, California School Employees Association
• President, Santa Ana Lion's Club
Aguinaga has been a Santa Ana resident for over 30 years. She earned a degree from Santa Ana College and worked 15 years for the Santa Ana Unified School District.
Learn more about Aguinaga here.