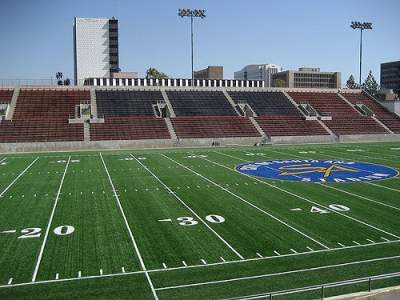 Community: Ribbon Cutting Ceremony to Celebrate Newly Renovated Santa Ana Stadium/ Ceremonia de Reapertura del Estadio de Santa Ana
SANTA ANA, CA – The City of Santa Ana invites you to the Ribbon Cutting Ceremony for the Santa Ana Stadium on Tuesday, October 18, 2016 at 3:30 p.m.

The purpose of the event is to celebrate the re-opening of the Stadium after extensive renovations of the structure's concrete surfacing was completed. Along with the structural renovations, modern upgrades were also made to the facility's existing press box and press box restrooms.
Due to age and weather, various sections of the concrete structure of the Santa Ana Stadium had cracked and broken off, exposing the reinforcing steel and causing it to become corroded. In addition, the protective fencing adjacent to the lateral seating areas was damaged and rusted in various sections.
The City conducted two studies to identify the extent of the damage and estimated cost for repairs. In 2015, funding was provided to begin the design and renovation work. During the concrete renovation process, other major structural repairs were identified. City Council approved an additional $800,000 funding for the project, providing a total of $1,570,300 for the much needed renovation and repairs. The improvements were completed in August 2016 and the Stadium is now open for field reservations and community use.
Local residents, adult and youth sports organizations and the general public are invited to join us for the Ribbon Cutting Ceremony on Tuesday, October 18. Light refreshments will be provided. The Santa Ana Stadium is located at 602 N. Flower Street in Santa Ana. For more information, please visit www.santa-ana.org or contact the Parks, Recreation and Community Services Department at (714) 571-4254.
SANTA ANA, CA – La Ciudad de Santa Ana invita al público a la Ceremonia de Inauguración del Estadio de Santa Ana el Martes, 18 de Octubre, 2016 a las 3:30 p.m. El propósito del evento es para celebrar la reapertura del Estadio después de que extensivas renovaciones fueran completadas sobre el la superficie concreto de la estructura. Conjuntamente con las renovaciones, mejorías fueron hechas a la cabina de prensa existente y sus respectivos baños.
Debido a la edad y el clima, varias secciones de la estructura de concreto del Estadio de Santa Ana se habían rajado y quebrantado, exponiendo el acero de refuerzo y haciéndolo ser corroído. Además, los rieles protectores junto a las zonas laterales estaban dañados y oxidados en varias secciones. La Ciudad llevó a cabo dos estudios para determinar la magnitud de los daños y estimo el costo de las reparaciones. En 2015, la financiación fue proporcionada para comenzar el diseño y trabajo de renovación. Durante la renovación del concreto, se identificaron otras reparaciones estructurales importantes. El Ayuntamiento Municipal aprobó fondos adicionales de $800.000 para el proyecto, proporcionando un presupuesto total de $1,570,300 para completar el proyecto. Las renovaciones ya fueron terminadas en Agosto 2016 y el Estadio está nuevamente abierto para reservaciones y uso comunitario.
Residentes locales, organizaciones deportivas para jóvenes e adultos y el público en general están invitados a la celebración el Martes, 18 de octubre. Habrá refrescos. El Estadio de Santa Ana se encuentra en la 602 N. Flower en Santa Ana. Para obtener más información, visite www.santa-ana.org o póngase en contacto con la Agencia de Parques, Recreación y Servicios Comunitarios al (714) 571-4254.