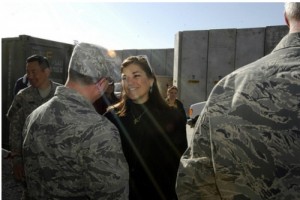 Congresswoman Loretta Sanchez, Representing California's 46th Congressional District
PRESS RELEASE, FOR IMMEDIATE RELEASE: July 31, 2013
MEDIA CONTACT: Barb Solish, 202-226-8373, Barb.Solish@mail.house.gov
REP. SANCHEZ INTRODUCES BORDER SECURITY BILL TO BOLSTER OUR BORDERS THE RIGHT WAY
WASHINGTON, D.C. – U.S. Representative Loretta Sanchez (CA-46), senior member on the House Committee on Homeland Security and former chairwoman of the Subcommittee on Border and Maritime Security, today introduced legislation in the House of Representatives that would bolster the country's borders through holistic enforcement, comprehensive security strategies and up-to-date technologies.
H.R. 2872, the Border Enforcement, Security and Technology Act (BEST Act), would ensure that any additional money spent on border enforcement be used responsibly to address legitimate issues.
"Over the past eight years we've nearly doubled our Border Patrol agents, increased fencing by 370 percent along the southwest border, the number of unauthorized crossings is at its lowest point in 40 years and we've witnessed a net negative migration from Mexico," said Sanchez. "However, if Republicans insist on spending more on border security at a time when budgets are tight, let's at least do it right. That is why I have introduced the BEST Act to make sure we use tax-payer money wisely and address long-standing concerns about how we operate at the border.
"We are incredibly close to making history with a comprehensive immigration reform bill. The time is now to bring the 11 million undocumented immigrants out of the dark and into the light," continued Sanchez. "I am confident that The BEST Act will help us get over the finish line."
The BEST Act takes a holistic approach to enforcement by:
•Providing enforcement officers the training and resources they need;
•Working with the communities along the border so their concerns are considered and met; and
•Ensuring civil liberties and civil rights are respected in the enforcement process.
The BEST Act would strengthen border security by:
•Creating a DHS comprehensive national strategy so that Customs and Border Patrol, Coast Guard and other agencies are all on the same page;
•Working more closely with our international partners to both the north and south; and
•Ensuring trusted programs like NEXUS, SENTRI, and FAST are secure.
The BEST Act calls for the use of our best technology by:
•Creating a comprehensive technology plan that assesses the technology we need to build a 21st Century Border;
•Giving officers high tech communication resources that work in all border conditions; and
•Making sure exits are as secure as entries by using advanced biometric data solutions
Congresswoman Loretta Sanchez is proud to represent California's 46th Congressional District, which includes the cities of Anaheim, Santa Ana, and parts of the cities of Garden Grove and Orange in Orange County. She serves as Ranking Member of the House Armed Services Subcommittee on Tactical Air and Land Forces and the second ranked Democrat on the Committee on Homeland Security. Rep. Sanchez is also a member of the fiscally conservative Blue Dog Coalition and sits on the bipartisan, bicameral Joint Economic Committee.
# # #