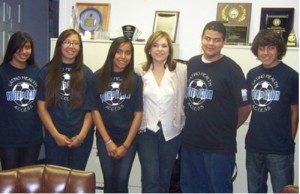 Congresswoman Loretta Sanchez, Representing California's 46th Congressional District
PRESS RELEASE, FOR IMMEDIATE RELEASE: July 31, 2013
MEDIA CONTACT: Barb Solish, 202-226-8373, Barb.Solish@mail.house.gov
REP. SANCHEZ ISSUES STATEMENT FOLLOWING VOTE ON STUDENT LOAN RATES
WASHINGTON, D.C. – Representative Loretta Sanchez (CA-46) today released the following statement after voting for H.R. 1911, The Bipartisan Student Loan Certainty Act, which passed with a bipartisan vote of 392-31 in the House of Representatives today.
"Education is the foundation of opportunity and the basis of our country's future success. A quality education system will not only enable our nation to compete in a global economy, but will also propel the country's economic recovery.
"The cost of college is frequently the only challenge dimming a bright young high school student's chance at success. I hold frequent "FAFSA Nights" in Orange County where I hear far too often that college costs and student loans stand in the way of a high school senior's ability to attend school. These stories are heartbreaking and unacceptable.
"That is why I was pleased to vote for a bipartisan student loan bill today that will make things right and reverse the student loan rate hike that occurred on July 1, 2013. In fact, the Bipartisan Student Loan Certainty Act not only reverses the hike but also saves college students and their families $25 billion in lower interest costs over the next six years, as compared to current interest rates.
"This bill does not solve the long-term student debt crisis, but it will provide relief to millions of Americans working towards higher education. I remain committed to keeping interest rates down and to addressing college costs overall."
Congresswoman Loretta Sanchez is proud to represent California's 46th Congressional District, which includes the cities of Anaheim, Santa Ana, and parts of the cities of Garden Grove and Orange in Orange County. She serves as Ranking Member of the House Armed Services Subcommittee on Tactical Air and Land Forces and the second ranked Democrat on the Committee on Homeland Security. Rep. Sanchez is also a member of the fiscally conservative Blue Dog Coalition and sits on the bipartisan, bicameral Joint Economic Committee.
# # #