Jasmine Harris is proving to be the wrong parent for the SAUSD to mess with!
Harris claims that her daughter, Paris Barnes, a fifth grader at Santiago Elementary, was playing with friends at lunchtime when she said a male classmate whipped a jump rope toward her and told her to "Get back to work, you slave."
When we asked Harris what the SAUSD was doing about this incident she said that "The school is doing nothing about it!
Harris demanded to know whether the other 5th grader involved was being disciplined. She even filed a complaint with the OCDA.
Harris resorted to using her Tik Tok account to announce that she was staging a protest, which happened yesterday at 7:30 a.m. She was joined by about a dozen other parents who were likewise upset at the lack of action from the SAUSD regarding this bullying incident.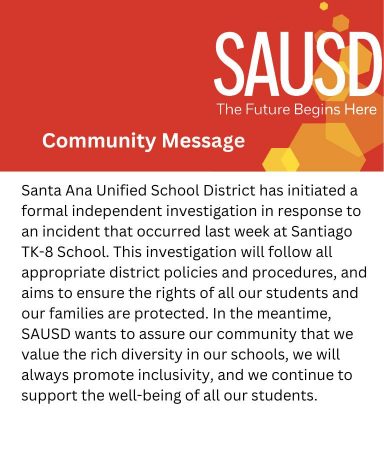 Media showed up to the protest including ABC7 and it worked. The SAUSD later announced that they were now initiating a formal independent investigation. Why did Harris have to resort to staging a protest for the SAUSD to finally do something about this?
The SAUSD has a huge PR staff and budget but they did not count on a parent who knew how to Tik Tok. Now they are backpedaling and the district has egg on their face.
Needless to say Harris' daughter is now leery about going back to Santiago Elementary.