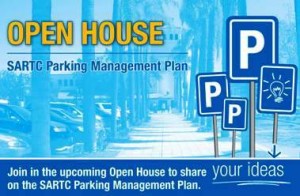 City of Santa Ana, Downtown Orange County
Community Alert: Join in the upcoming Open House to share your ideas on the SARTC Parking Management Plan.
SANTA ANA, CA (December 5, 2012) – The City of Santa Ana is leading a study to examine parking management strategies and evaluate a potential parking fee for the Santa Ana Regional Transportation Center (SARTC). This Open House will be your opportunity to review and comment on the new ideas for parking at the SARTC. Please attend and help us improve parking conditions for all users.
When: Wednesday, December 12, 2012, from 3:00 PM to 6 PM
Where: Santa Ana Regional Transportation Center Courtyard
1000 E. Santa Ana Boulevard
Santa Ana, CA
You can also provide feedback via a survey by visiting:
http://www.surveymonkey.com/s/SARTC
####
For full details, view this message on the web.