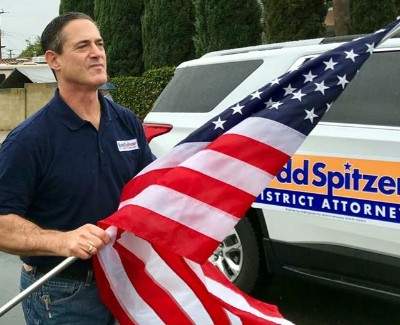 SANTA ANA – Today, Pete Hardin's campaign for Orange County District Attorney released the following statement in response to District Attorney Todd Spitzer's absence from the Commission to End Homelessness' July meeting, despite his status as a voting member. The commission has cancelled more than half of its scheduled meetings since 2020, with Spitzer having only attended two of the meetings that took place.
"This is an office whose leader continues to employ 40- and 50-year-old techniques to crime that have been shown to exacerbate behavioral health conditions and their nexus to homelessness," said former Marine Judge Advocate Pete Hardin. "Orange County's DA can't be bothered to even show up to work collaboratively to address this issue, so it's really no surprise that homelessness and crime have continued to climb on his watch."
"The Commission to End Homelessness should begin inviting the media to its meetings to incentivize TV Todd to show up, as the deteriorating conditions on our streets have proven to be an insufficient motivator. Orange County needs a DA that is willing to put the work in and lead on this issue. We must break the cycle of low-level offending behavior that churns people through our jails and back to our streets. Todd Spitzer's approach is to ignore it."
Current Orange County District Attorney Republican Todd Spitzer's tenure has been defined by scandal. Four women in Spitzer's office have filed claims asserting Spitzer promoted an employee and close friend despite having been made aware of the sexual harassment complaints against him. Spitzer later allowed the employee, who was the best man at his wedding, to retire with top flight benefits. Spitzer also attempted to drop sexual assault charges against high-profile defendants, leading a judge to remove him from the case. Survivors of the sexual assault survivors were "dragged through the mud" and "grossly mistreated" by Spitzer for two and a half years, leading two of them to abandon their case.
Spitzer has been involved in an evidence booking scandal, a jailhouse informant scandal, and has defamed a victim of OC's deadliest mass shooting as retaliation for peaceful protest. Spitzer has also defended a DNA collection program known informally as "Spit and Acquit" that coerces defendants to give up their DNA to law enforcement, a practice the ACLU has called "unconstitutional."
Pete Hardin is a former Judge Advocate in the U.S. Marine Corps, Deputy District Attorney, Special Assistant United States Attorney, and one of Southern California's leading litigators running for Orange County District Attorney. Pete entered public service when, in 2005, he earned his commission as a second lieutenant in the Marine Corps. A combat veteran, Pete served in Helmand Province, Afghanistan in 2011 and 2012 as a member of 1st Reconnaissance Battalion. Pete is a member of the Democratic Party.
Orange County's rapidly changing electorate has led Democrats to now outnumber Republicans in Orange County holding a 4.1% voter registration advantage.