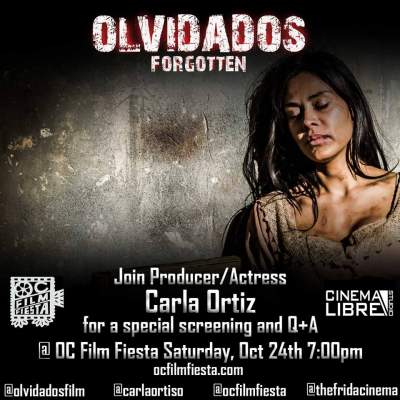 City of Santa Ana
Community Alert: OC Film Fiesta Screens Bolivian Sensation "OLVIDADOS" this Saturday at The Frida Cinema
Bolivian Consul Marco Antonio Valverde Carrasco was at the Santa Ana City Council meeting last night to invite the public to join Bolivian stars Carla Ortiz and Bernardo Peña in person for a special OC Film Fiesta fundraiser screening of OLVIDADOS (FORGOTTEN), Bolivia's official entry to the Oscars, this Saturday, Oct. 24 at 7 p.m. at the Frida Cinema, located at 305 E. 4th St. on Santa Ana's historic Calle Cuatro. This special OC Premiere screening will be the film's only showing in Orange County! This special screening will be preceded by a 6pm VIP reception and followed by a special Q&A by Bolivian star Carla Ortiz and Bernardo Peña.
Multi Ariel Award-winner Mexican filmmaker Carlos Bolado (Tlatelolco; Colosio: The Assassination) directs an international cast featuring Carla Ortiz (Los Andes No Creen en Dios), Damian Alcazar (El Infierno), Rafael Ferro (Guapas), Bernardo Peña (Cielito Lindo) and Tomás Fonzi (Botineras) in this important film about the CIA-backed Operation Condor, which resulted in the abduction, torture and execution of countless men and women in Latin America in the 1970s. OLVIDADOS has won four Maya Awards and was Bolivia's Official Entry to the Foreign Language Film category for the 87th Academy Awards.
After suffering a heart attack, retired General José Mendieta (Damián Alcázar) is haunted by his dark past as an officer in Operation Condor, the CIA-backed campaign of political repression in Latin America that was responsible for executions, torture, and imprisonments in the 1970's. In a letter to his son Pablo (Bernardo Peña), Mendieta confesses the role he played in the abduction, persecution, and execution of countless men and women during his posting to Chile. Journalist Marco (Carlotto Cotta) and his pregnant wife Luciá (Carla Ortiz) are among those who were arrested, along with their activist friend Antonio (Tomás Fonzi) and revolutionary Andrea (Ana Calentano). They suffer terribly under Mendieta and his cohort Sanera (Rafael Ferro), which leads to a cascade of betrayals, secrets, and stolen lives that spans generations.
OLVIDADOS is the first film to specifically address the horrors perpetrated under Operation Condor, which was introduced by Richard Nixon's Secretary of State Henry Kissinger and was responsible for: 50,000 deaths; 30,000 "disappeared"; and 400,000 arrested and imprisoned in Argentina, Bolivia, Brazil, Chile, Paraguay, and Uruguay.
Don't miss this important film's only Orange County screening and help spread the word!
@OCFilmFiesta @TheFridaCinema @OlvidadosFilm
Tickets are $10 general and $8 students. Proceeds benefit Media Arts Santa Ana (MASA) and The Frida Cinema.
For more information, visit https://www.facebook.com/events/1668048416812136, email victor@ocfilmfiesta.org or call 888-906-0340.
INFO
OC Film Fiesta Fundraiser Screening
OLVIDADOS (FORGOTTEN)
Bolivia's Official Entry to the Oscars
Only Orange County Screening!
Saturday, Oct. 24, 2015 at 7pm
The Frida Cinema
305 E. 4th St.
Santa Ana, CA 92701
www.ocfilmfiesta.org
www.thefridacinema.org
SPECIAL VIDEO INVITATION FROM CARLA ORTIZ
TRAILER
TICKETS
Tickets to this special fundraiser screening are $10 general and $8 students.
Tickets are available for purchase online at http://tinyurl.com/OlvidadosOC
Or at the Frida Cinema Box Office, located at 305 E. 4th St. Santa Ana. CA 92701, which is open from 4pm-11pm weekdays and opens at 11am on Saturday. For more information, call (714) 285-9422
FACEBOOK EVENT PAGE
https://www.facebook.com/events/1668048416812136/