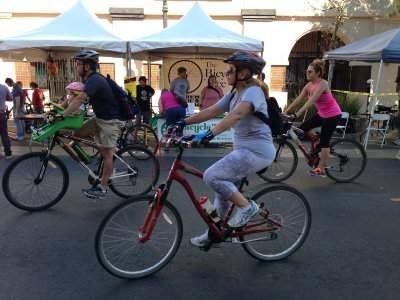 City of Santa Ana, Downtown Orange County
Community Alert: Santa Ana to Receive $11.5 Million in Active Transportation Funding for Safe Bikeways
Santa Ana will receive more than $11.5 million in state active transportation funds to help build three major bikeway projects, a major step forward in the city's efforts to improve bicycle safety. Protected bicycle lanes at Santa Ana Boulevard and 5th Street ($5.4 million) and on Endinger Avenue ($2.37 million), as well as the Civic Center Bike Boulevard ($3.7 million), are among 34 active transportation projects in Southern California that were approved for funding today by the California Transportation Commission.
The 34 projects, totaling $83.9 million over the next three years, represents nearly half of the $180 million in funding approved statewide."This isn't about building bike lanes. It's all about safety," said Michele Martinez, a Santa Ana Council Member and First Vice President of SCAG. "I've experienced myself the challenges that bike riders have – riding on sidewalks and sometimes against traffic. It's how more and more people get to work and it's unsafe. These three projects will go a long way toward establishing Santa Ana not as a 'bike city,' but as the region's premier 'bike-safe city.'"
The state's Active Transportation Program (ATP) is designed to support projects that promote walking and biking and improve active transportation safety. An average of 38 pedestrians or bicyclists are injured or killed every day in the six-county SCAG region. SCAG itself previously received $2.3 million in ATP funds for its recently launched "Go Human," designed to promote safe walking and bicycling while also reminding drivers to pay attention to pedestrians and bicyclists.
"Go Human" was developed in collaboration with public health and county transportation commissions throughout the region. Active transportation is credited with reducing traffic congestion, greenhouse gas emissions, and chronic disease. According to the Centers for Disease Control, incorporating 30 minutes of physical activity into everyday routines significantly reduces the risk among adults of diabetes, heart disease, stroke, and cancer.
"Active transportation provides long-lasting benefits in terms of health, safety and the sustainability of our communities, and is an essential element of our region's long-term mobility plans," said Hasan Ikhrata, Executive Director of SCAG. "Providing safe, non-motorized transportation alternatives is a growing priority for communities throughout our six counties, and we applaud the Transportation Commission and local transportation authorities for helping to make these projects a reality."
###