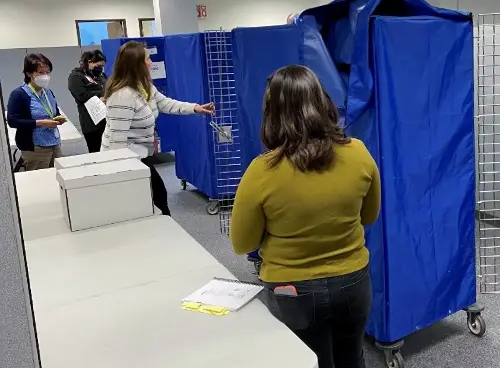 SANTA ANA, CA – May 26, 2022 – Starting this Saturday, May 28, Orange County voters will have expanded options for casting a ballot in the June 7 Statewide Direct Primary Election when the Registrar of Voters opens 43 Vote Centers throughout the county.
Voters may use a Vote Center to request a replacement ballot, vote in-person, drop off their voted mail ballot, update their registration, or take care of other voting needs. These same services have been available for this election at the Registrar of Voters' Santa Ana office since May 9.
On June 4, an additional 138 Vote Centers will open across the county with all 181 Vote Centers remaining open through Tuesday June 7, 2022.
Vote Center Hours:
• May 28 – June 3, 2022 (8 am – 5 pm) select Vote Centers open
• June 4 – June 6, 2022 (8 am – 8 pm) additional Vote Centers open
• June 7, 2022 (7 am – 8 pm)
Vote Centers in Santa Ana include:
Delhi Center, Opens May 28, 505 E Central Ave, Btwn Halladay St & Orange Ave
Jerome Center*, Opens May 28, 726 S Center St, Off Monte Vista Ave
Orange County Registrar of Voters, Opens May 28,1300 S Grand Ave Bldg C, Corner of Mcfadden Ave
Albert D. Salgado Community Center, Opens June 4, 706 N Newhope St, Btwn Hazard Ave & 5th St
Church of the Foothills, Opens June 4, 19211 Dodge Ave, Corner of Newport Ave.
Digital Media Center, Opens June 4, 1300 S Bristol St, Btwn Wilshire Ave & Edinger Ave
El Salvador Community Center, Opens June 4, 1825 W Civic Center Dr, Btwn Fairview St & Raitt St.
Latino Health Access, Opens June 4, 450 W 4th St, Btwn Ross St & Broadway
Orange County First Assembly of God*, Opens June 4, 1440 E Santa Clara Ave, Btwn Grand Ave & Tustin Ave.
Orange County Musicians Union, Opens June 4, 2050 S Main St, Btwn St Andrew Pl & St Gertrude Pl
Roosevelt-Walker Community Center, Opens June 4, 816 E Chestnut Ave, Corner of Standard Ave
Sandalwood Moblie Home Park, Opens June 4, 507 S Euclid St, Btwn 1st St & Mcfadden Ave
Santa Ana College – Gym, Opens June 4, 1530 W 17th St, Enter off 17th St (Park in Lot 1)
Second Baptist Church, Opens June 4, 4300 Westminster Ave, Btwn Harbor Blvd & Newhope St.
* Drive-thru ballot drop off option
All Vote Center sites meet usable accessibility requirements unless otherwise noted.
Voters can find the Vote Centers in their neighborhood by visiting Voting Locations | OC Vote. The Registrar of Voters' interactive mapping tool also shows the locations of the 120 ballot drop boxes in the county.