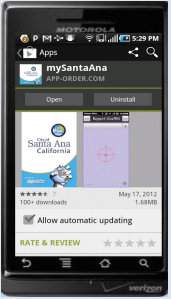 The City of Santa Ana has launched a "mySantaAna" Smart Phone application that allows residents with iPhone and Android phones to point, click and send photos of maintenance issues such as graffiti, illegal dumping, potholes, sidewalk defects, street signs, street sweeping, trees, street light repair, weeds, storm drain, water pollution, hazardous waste, animal services, shopping cart removal and transient debris.
iPhone and Android users may download the "mySantaAna" application for free from the iPhone App Store and Google Play Android Market by searching for the keyword "mySantaAna". Once installed, users will simply open the application and follow the prompts to take pictures of the issue and then tap "submit". Using built-in global positioning system technology, "mySantaAna" will attach a location to the picture and route the information to the appropriate City department for resolution.
City staff and Vendors will now be able to respond like a business, using better technology, encouraging efficiency and faster response times.
You can also opt in to receive notifications and we will let you know when the issue has been cleaned up.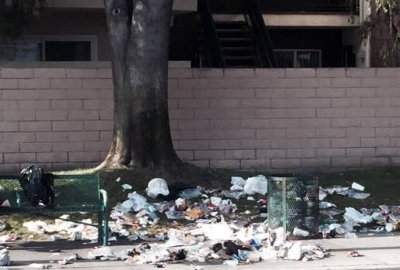 So if you see a trashy bus stop – like the one pictured above, you can use the mySantaAna app to report it.  And then track how long it takes the city's vendor to actually clean up the mess.