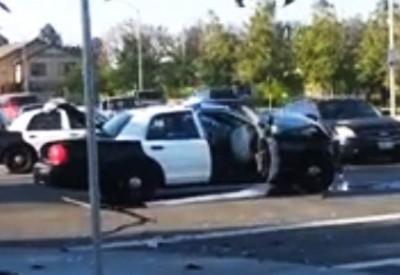 An SAPD police cruiser driving northbound in the 600 block of South Bristol Street, crashed head-on into another vehicle, in an intersection, while racing to respond to an alleged shooting on Saturday night, at around 6:10 p.m., according to the O.C. Register.
The patrol car had its lights and sirens on at the time of the crash, according to the SAPD.  The police officer was turning westbound on West Willits Street when a driver heading southbound on Bristol did not stop at the intersection.
The driver, who was going south on Bristol, crashed head on with the police cruiser in question – and the accident caused heavy damage.
The police officer who crashed hurt his hand but was treated at the scene and released.  The other driver was not injured but he might be facing charges.
You can watch a video of the accident scene on Santa Ana resident Joel Gonzalez' Facebook page.