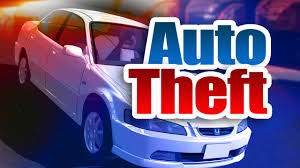 A suspected car thief got busted on Sunday morning after an SAPD police officer tried to stop a reportedly stolen gray Acura MDX just before 6:40 a.m., as it traveled southbound on South Fairview Street near West McFadden Avenue, according to the O.C. Register.
Of course the suspect refused to stop so the chase was on.  The driver took off on West McFadden Ave., for about two miles, before he turned right on South Harmon Street. Then he stopped in a residential neighborhood at around 600 South Harman, and the cops caught him and arrested him on suspicion of possession of stolen property.
Unfortunately the suspect's passenger, who was described as a Latino man, standing 5 feet 8 inches tall and weighing 160 pounds, with a nearly shaved head and dressed in a blue sweatshirt and dark pants, took off on foot and he got away.
If you know who the passenger was or what his whereabouts might be you are urged to call the Orange County Crime Stoppers at 1-855-TIP-OCCS. Tips can be made anonymously over the phone or online at occrimestoppers.org.
The car thief was arrested in Santa Ana's Ward 6, which is represented on the City Council by Councilman Sal Tinajero.